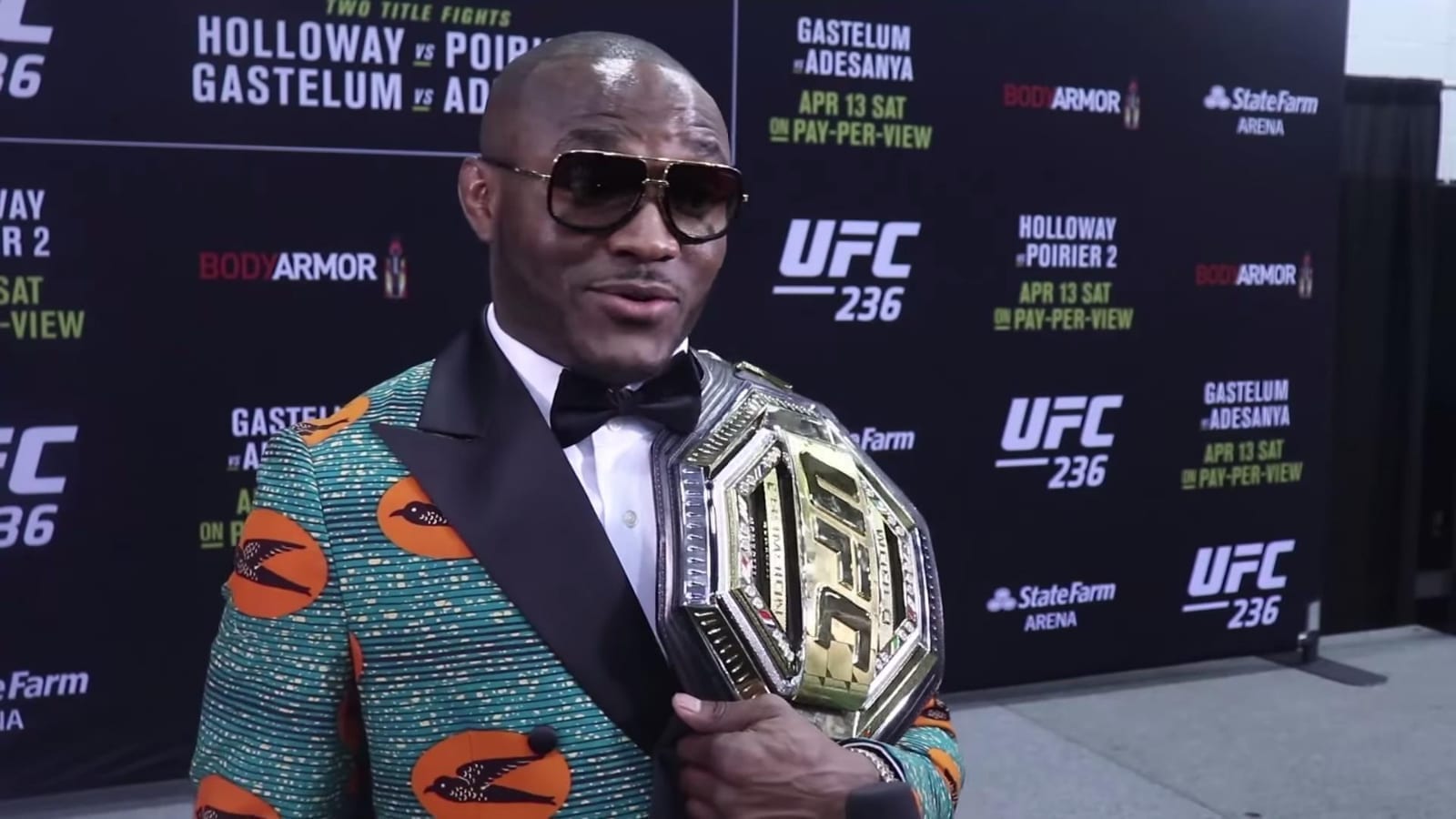 Such are Georges St-Pierre's accomplishments in the Octagon that he has risen to role of becoming a de facto end of level 'boss' for an assembly line of UFC champions. 
Several fighters, most recently Khabib Nurmagomedov, and before him Michael Bisping, had called for a bout with the Canadian legend and while this may very much be a case of 'be careful what you wish for' (ask Bisping), it hasn't stopped current UFC welterweight champion Kamaru Usman from becoming the latest fighter to attempt to talk a fight with GSP into reality.
Usman, who defeated Colby Covington in a fiercely entertaining brawl to defend his 170 pound title at the tail end of December, can expect a busy year ahead of him and in an interview with MMA Fighting, the 'Nigerian Nightmare' identified some of the challenges which may await him in the next 12 months.
"Leon Edwards is doing well. He's a guy who could be deserving of a shot. Masvidal, also another guy that could be deserving of a shot. Woodley, if he goes out and gets a couple more wins, he's deserving of a shot, too," Usman said.
"2020, the only thing that makes sense, I'm right there about to break the record for most consecutive wins [at welterweight] and I'm the champion. The guy that holds the record, the guy that's just above me, is Georges St-Pierre. It's only right that I break that record on Georges St-Pierre."
View this post on Instagram
GSP hasn't competed at welterweight since 2013 and has fought just once since then when he defeated Michael Bisping to claim the UFC middleweight title in November 2017. He relinquished the title shortly after and has since announced his permanent retirement — though retirements in combat sports can often be a temporary thing.
"Think about that fight. Georges St-Pierre has the record, I'm coming for the record and in order for me to break the record, I fight him for the record," Usman said. "I can't think of a better way to get that record than to fight somebody like Georges.
"With all due respect, I've got a lot of respect for Georges. He's the guy I watched coming into the sport. That's a fight that a lot of guys dream of. Not just we're going to get paid but I dream of that fight as a competitor. Competing against one of the best to ever do it. I think it would be a tremendous fight.
"A fight with Georges St-Pierre, I think that would speak volumes for itself," he added. "I'm looking to fight two times if not three in 2020. If the opportunities present themselves, I would try to be ready for those opportunities. [If] Georges comes in, giving me that opportunity to break the record fighting him would be tremendous."
Comments
comments