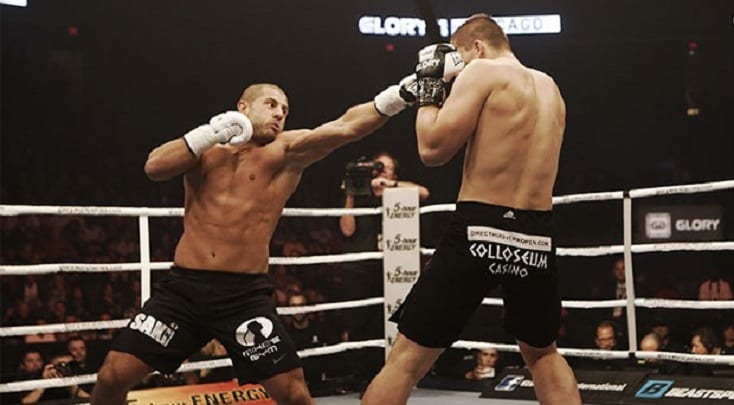 With all the recent excitement in the combat sports world, it's easy to understand if this weekend's UFC Fight Night from Saitama in Japan is flying under the radar for some.
The event, which will be housed one of the world's largest indoor arenas, is headlined by a clash between Ovince Saint Preux and the returning UFC veteran Yushin Okami but for many fight aficionados, the most interesting bout lies in the middle of the main card — the UFC debut of 'The Rebel' Gokhan Saki.
One of the world's finest kickboxers, the Dutchman of Turkish descent has earned comparisons with Cristiano Ronaldo such is his dominance in the sport.
Saki signed for the UFC in May and brings with him to the octagon one of the most refined stand-up arsenals in the light heavyweight division. Boasting a career kickboxing record 83-12, Saki has competed with the likes of Tyrone Spong, Alistair Overeem, Badr Hari and Ray Sefo throughout his career. He has won numerous titles throughout his career, including the Glory Light Heavyweight championship which he won in a bout with Spong three years ago.
He will face Brazilian Henrique da Silva in his first UFC outing — and first combat sports outing in more than two and a half years — and says that this is just the first step on his way to UFC gold.
Speaking with Sport360.com Saki explained his decision to abandon kickboxing in favour of a challenge inside the UFC.
"There was no challenge in kickboxing anymore. That was the biggest reason for making this move," he said.
"I was not happy anymore. I didn't have the hunger. Not to train or anything. So I stopped and I haven't fought in nearly two and half a years but about a year ago I felt empty. I fought for 20 years and I didn't finish my career in the right way. I missed fighting, even after so long doing it.
"I still have the power, the hunger and the energy. I'm happy again. There is no better way to come back than this way."
As for his ultimate goal in his new place of employ, and much like his actions inside the ring, Saki doesn't pull any punches.
"I'm going to be the new Dutch champion 100 per cent,"Saki predicts. "This time next year I will be the UFC champion, that is my aim and this is what I will make happen. I'm not going to waste a moment, taking breaks. I want to fight and work towards my goal.
"There's no rust. My sparring is real fighting. My sparring is very often harder than what I have to do in the fight, especially now as I spar every day for 12 rounds. I'm a fighter and I've been doing this a long time so I don't care about the time off. I will be the first Dutch champion since Bas Rutten and I will also be the UFC's first Turkish champion."
Comments
comments