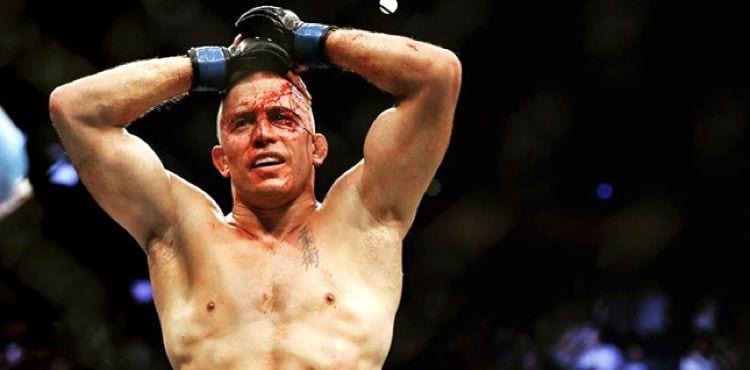 Georges St-Pierre's return at UFC 217 was a stunning achievement considering how long he'd been out of the cage.
There grows a whole new level of appreciation when it comes to light just how sick St-Pierre got before he stepped into the Octagon to face Michael Bisping in Madison Square Garden. Since his victory — one that made him the fourth man to hold two belts in two divisions — St-Pierre was diagnosed with colitis, and as such he vacated his middleweight title.
What fans were unaware of, however, is just how bad things got in the lead up to the contest with Bisping, and how close St-Pierre was to pulling from the historic contest.
Speaking on MMAFighting's The MMA Hour today, St-Pierre's coach John Danaher revealed that during what was supposed to be the Canadian's peak performance period in training, St-Pierre was riddled with illness and looked unable to compete at his previous levels.
"By halfway through this camp there was something very obviously wrong," Danaher said. "Georges was having serious medical problems. Two weeks into the camp, and they persisted throughout. They peaked in a six week camp between week four and week two out from the main event. Things got so bad, we lost two weeks with zero training. So the camp was really something of a disaster."
"That was the obvious question: should he pull out?" Danaher continued. "There was a critical three day period when we'd lost a week and a half of training where the camp was in complete disaray, and all momentum for the camp had been lost. I remember on the Friday night having a discussion with Firas Zahabi, Georges and myself as whether things were going to go forward from here or if we should just pull the plug.
"It was a big event. Madison Square Garden is one of the biggest venues for the modern UFC. And so to pull out that soon before, politically that would be a major, major decision. And it wouldn't look good for Georges career … for Georges to pull out just two weeks before would have been politically disastrous."
Georges St-Pierre's jiu-jitsu coach John Danaher describes stressful situation that almost forced GSP to pull out of his UFC 217 title fight with Michael Bisping 😳. Watch #TheMMAHour LIVE: https://t.co/LhsTRQ4VCo pic.twitter.com/tHay4gM1qG

— MMAFighting.com (@MMAFighting) December 11, 2017
In the end, St-Pierre's durability flared up, and managed to turn the camp around in the last two weeks of the camp. According to Danaher, the medical issues didn't go away, but lucky for St-Pierre the symptoms had subsided enough for the former welterweight champion to compete.
Just because St-Pierre was able to step into the cage, however, Danaher and his coaches were not necessarily confident in their charge. So bad was the two week period which left St-Pierre unable to train, Danaher approached fellow coach Zahabi to share his belief that Bisping would win the then-upcoming contest.
"I'm not going to lie to you," Danaher said. "Two weeks out before the fight, I had a talk with Firas Zahabi, and I straight forwardly said to him that 'the Georges St-Pierre I saw train today gets knocked out by Michael Bisping nine times out of ten. That was two weeks before the fight. And Firas looked at me, and I looked at him, and we didn't say a word. We both knew it was true. It was an absolutely critical period."
Amazingly, St-Pierre rallied.
"I was greatly impressed by the degree of improvement in a week and a half," Danaher said. "Georges went from looking like a second rate fighter to something very close to the old Georges St-Pierre."
Now, St-Pierre's career is in flux. Having vacated the title he had agreed to defend against Robert Whittaker, the question moves from St-Pierre's next title defence to whether or not he'll ever compete again. According to his coach, the medical condition from which St-Pierre is suffering is so debilitating that it's "a definite possibility" we never see St-Pierre fight in the cage again.
"These are life-changing decisions, so they will have to made on the basis of Georges' reaction to the medications that he's taking for ulcerative colitis," Danaher said. "From what I understand, the standard medications for ulcerative colitis take some considerable amount time to take effect – anywhere from three to eight months – before you'll even notice any changes. We have to see how he reacts to his medication regiment and make a decision based on that."
Comments
comments