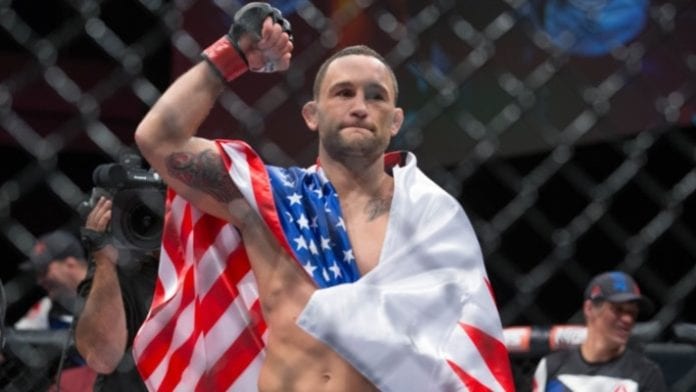 Frankie Edgar has been waiting a long time for a shot at the UFC featherweight title but he has perhaps never been better placed to receive one than he is right now.
New champ Max Holloway has removed the José Aldo-shaped stumbling block which had impeded Edgar's path to UFC gold on two occasions in the past, after defeating him via third round TKO at UFC 212 in Brazil earlier this month — and now we appear poised for a Holloway vs. Edgar showdown in what would be the first UFC featherweight title fight ever to not feature the Brazilian former champion.
Edgar, fresh from a dominant performance against surging contender Yair Rodriguez in May, is confident that the stars finally appear to have aligned to afford him a shot at the championship he has craved since he entered the 145-pound fold in 2013.
"I guess we haven't heard anything official, but that's the way it's leaning," Edgar told Fighters Only of the possibility of a title bout with Holloway.
"I feel confident we're going to fight some time, I believe, in the fall. I don't know the exact date."
As for what the Hawaiian champion brings with him into the cage, Edgar is keenly aware of the dangers that the new champion poses.
"He's tough, man," Edgar says. "He might be the best guy I've fought to date. Super long and rangy, he's a fighter's fighter and brings it every time. He can go all five hard rounds, so I'll have my hands full."
"I've been fighting the best competition fight after fight only high ranked guys," Edgar said separately in a recent interview FloCombat. "I'm the only one Max hasn't fought yet. If Max wants to be this dominant champion and clear the division he would have to face me. I'd imagine he would want to test himself against someone like myself and not someone he has already finished."
"I saw Max says he'd like to add another former champ to his list. I wouldn't mind fighting in Hawaii and conquering the king in his own land."
Comments
comments