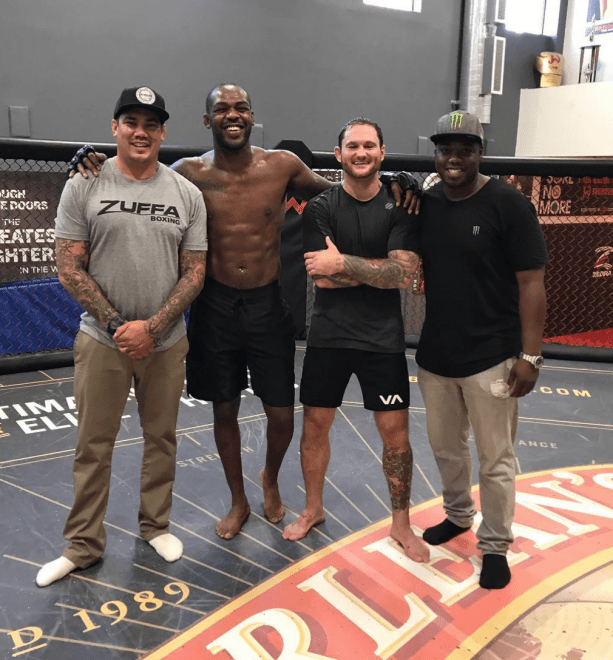 There's another rift at JacksonWink MMA.
Frank "The Tank" Lester, who's been a striking at the gym for years, has just taken to his Instagram to reveal he's left the team, and made a series of serious accusations at his former teammates.
According to Lester, UFC light heavyweight champion Jon Jones failed to pay him an previously agreed amount for his duties in the lead up to Jones' fight with Thiago Santos earlier this year, and when Lester asked about the money, Jones had him fired from the gym.
As evident by his words, Lester's incredibly angry about the situation, and even says he'll fight Jones the moment he sees him next.
"I have no regrets, I did my job and everybody who has followed my journey knows I did my job, Jon Jones & Mike Winkeljohn just did me dirtier that I have ever even seen in this fight game," Lester wrote. "But good always prevails over evil and we have a home big enough for all of us. I will be opening TANK Mixed Martial Arts In the next 6 months and we are going to takeover the beautiful city of Albuquerque New Mexico! Karma is real. And Jon, it's on site with me & you & you know that. You stole from my family. You got me fired from my job for no reason and for that I am grateful [because] I will never work for a crook like Mike Winkelloser again.
"I'm 10X 's the coach you've ever been. You just bought out Greg's name and unfortunately JACKSONS was out in the control of a dirtbag. But fuck you all very much! The only@thing(sic) that comes to [mind] when I hear your names are, cowardice & deceit. It's on site JBJ. So keep that security close F>

It's not the first rift to happen at the gym as of late. Last year, Donald Cerrone famously left the team after having been there for a decade after he alleged Mike Winkeljohn chose to coach Mike Perry over Cerrone in order to make more money.

Then earlier this year, Diego Sanchez — one of JacksonWink's longest tenured members — said he left the gym after not finding himself being properly attended to in class and in camps for his fights.

Shortly after the post, Jones himself waded into the comment section and emphatically denied all of Lester's allegations, as well as warned Lester off attempting to make the issue go any further.

"Frank I gave you the opportunity of a lifetime. Everyone on the team knows that I would not agree to give you $20,000 for only your second training camp on my team," Jones wrote. "And if I did, I would have totally paid you that amount, not once and 10 years have I ever gotten a complaint about not paying staff members. If anything I'm always complemented for being peoples highest paying client by a longshot. I won't even get in to the fact that you were fired from the team on fight week because of your drug issues.

"Anyways, I'm not going to argue with you over the Internet. I would be more than happy to take this to a judge. It's the physical threatening that I have a problem with. I have no interest in carrying a concealed pistol or preparing for any type of street fight with you. Tomorrow I will be calling APD and bringing our confrontation to their awareness. Honestly I wish I would have never gotten to know you, but I truly do wish you nothing but the best. Please just leave me alone bro or see me in court."
Jones responded mere minutes ago. pic.twitter.com/FDIxBUhtob

— Late Stoppage MMA (@LateStoppageMMA) October 1, 2019
–
Comments
comments