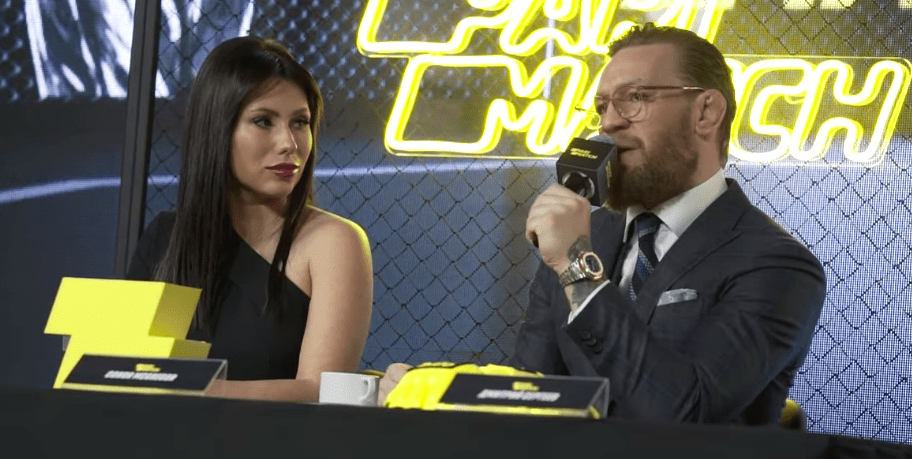 When it comes to Conor McGregor, there has been an incessant line of questions since the Dubliner announced his 'retirement' earlier this year.
Well, if you didn't already know, that statement has been well and truly walked back in the following months but a large number of questions remains as to the Dubliner's future fight plans — with most, or all, being addressed by McGregor in a press conference in the Russian capital early Wednesday as part of his brand ambassadorship with sports betting firm Parimatch.
It was a wide-ranging Q&A sessions, first with a moderator and then with representatives of the local media. But what exactly did we learn?
He is fighting on January 18
There you have it. 12 weeks from this coming Saturday, McGregor says he will once again make the walk in the T-Mobile Arena in Las Vegas on what will be the fifth anniversary of his fight against Dennis Siver in Boston.
"I would like to announce the return of 'The Notorious' Conor McGregor will take place on January 18th in the T-Mobile Arena in Las Vegas, Nevada," said McGregor during Thursday's event — but who will he be fighting?
The opponent has not yet been announced 
It certainly doesn't look like it will be Dustin Poirier as McGregor detailed during the presser that rematching someone he has already beaten convincingly doesn't appeal to him and, while McGregor said he had legitimate interest in fighting Frankie Edgar, he says that the UFC aren't keen on the bout.
"As far as the opponent, I have the opponent's name, but for me and the game that I'm in, and from experience, if I was to give you people the name — which I would love to do — I know the UFC would flip it because they are a crafty company," he said. "For me, here's this one, ask the UFC who the opponent is because I do not give a f*ck who the opponent is."
Our money is on Donald 'Cowboy' Cerrone or Justin Gaethje.
He wants to challenge the winner of the 'BMF' belt
McGregor says that he will be an interested viewer when Nate Diaz and Jorge Masvidal square off in Madison Square Garden on November 2 for the so-called 'Bad Motherf*cker' belt.
"That will be the beginning of my season," McGregor outlined, forecasting an intense 2020.  "I will then look to compete against the winner of Nate Diaz and Jorge Masvidal for the 'Bad Motherf*cker' title. Obviously, I have history with Nate Diaz, we are set to have the trilogy bout. We'll see how that one goes, I feel Nate will get the better of that one and then we will contest the trilogy bout."
A rematch with Khabib Nurmagomedov is 'inevitable'
The result of their first meeting still irks McGregor but he is confident of getting another opportunity, which he says will come next year in Moscow.
"I will seek the Moscow bout and it will be against the winner of Tony Ferguson and Khabib Nurmagomedov…I can't even say the guy's name…who gives a f*ck what the guy's name is, but that is the bout that we want. We want this bout in Moscow, the people of Russia deserve this bout to take place, the people of the world deserve this bout to take place. It is an inevitable rematch. It is a rematch that I will come in sharp, fresh. I will have no injuries, I will have no alcohol, I will have no outside influences and I will be fully focused…exactly what the people deserve, exactly what the fans deserve and we will settle it once and for all."
He still doesn't have many good things to say about his lightweight rival
The rivalry between McGregor and Nurmagomedov still runs deep but McGregor alleges that the champion wants no part of the Irishman.
"He is afraid of the Moscow bout for whatever reason," McGregor announced. "I'm not sure, does he represent Russia? I'm not sure if he does represent Russia. I have never seen the man represent Russia in my life. Have you ever seen the man raise a Russian flag like I raise the Irish flag, with pride? I have never seen it once in my life. He is running from the bout in Moscow.
"The public want it, the people want it, his own father wants it. He does not want it, he wants to bring a man down to a weight he has never competed at before, even though he himself has almost died making that weight. He is afraid of risk. A man who fears risk will conquer nothing long lasting; there will be no longevity in his career as he does not take risk at all.
"His last opponent was a former featherweight, which I knocked out in 90 seconds. I knocked that man out in under 90 seconds and it took him three rounds to get the job done. This is an inevitable rematch, we know this, we know it's happening."
Comments
comments