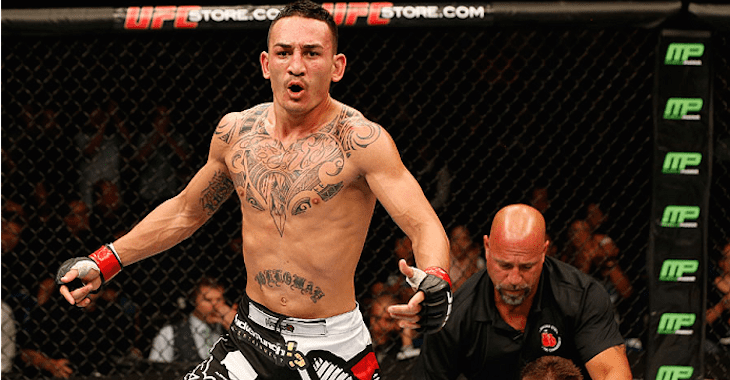 Max Holloway's ambition to become the UFC's latest two-division champion fell short at UFC 236 where the Hawaiian was outpointed through five rounds by the newly-instated interim lightweight champion Dustin Poirier and, according to Tristar's Firas Zahabi, the reason for the defeat was down to the featherweight champion not fighting with his 'brains'.
The coach, crucial to Georges St-Pierre's historic march through the UFC, says that he identified differences in both fighters' approach to the bout which informed its result.
"Poirier fought smart and Holloway fought with his heart," Zahabi said to the Tristar YouTube channel via BloodyElbow.
"Holloway fought blood and guts, he fought with his heart. So did Poirier, but he fought with heart and brains. He was just more strategic than Holloway. He was playing the game, whereas Holloway was trying to win with pure heart and grit."
Longtime followers of Holloway's career will recognise this approach. His UFC 199 bout with Ricardo Lamas was punctuated by a blistering final ten seconds in which Holloway pointed to the canvas and issued an invitation for both fighters to swing for the bleachers, a clip which will long be preserved on Holloway's highlight reel.
That mindframe didn't pay off this time, says Zahabi.
"It was a poor choice," he says. "I thought he could have done better. He forgot to move his feet, he forgot to move his head, he forgot to parry. He forgot all these things. Why? Because he was too busy egging on Poirier to hit him.
"And Poirier was more than willing to hit him. He landed the more powerful strikes, the cleanest strikes, and Poirier was more defensively responsible," he said. "Let's just be honest, at the end of the day, Holloway was defensively irresponsible.
"I love the guy and I admire him as a fighter. I think he's one of the greats. He's gonna go into the Hall-of-Fame. The man is a brilliant fighter. He just, in my opinion, got too much in the heat of battle. It happens. It happens to the best fighters. The man is a brilliant fighter, however, Dustin was strategically superior.
"I felt that Holloway was getting hit by the same shots and was not adjusting. He didn't really kick too much, and I just feel like he was boxing with a really good boxer, where he should have been kicking and kneeing and elbowing," he said. "I just felt that he had to mix it up more, use his other tools."
Comments
comments