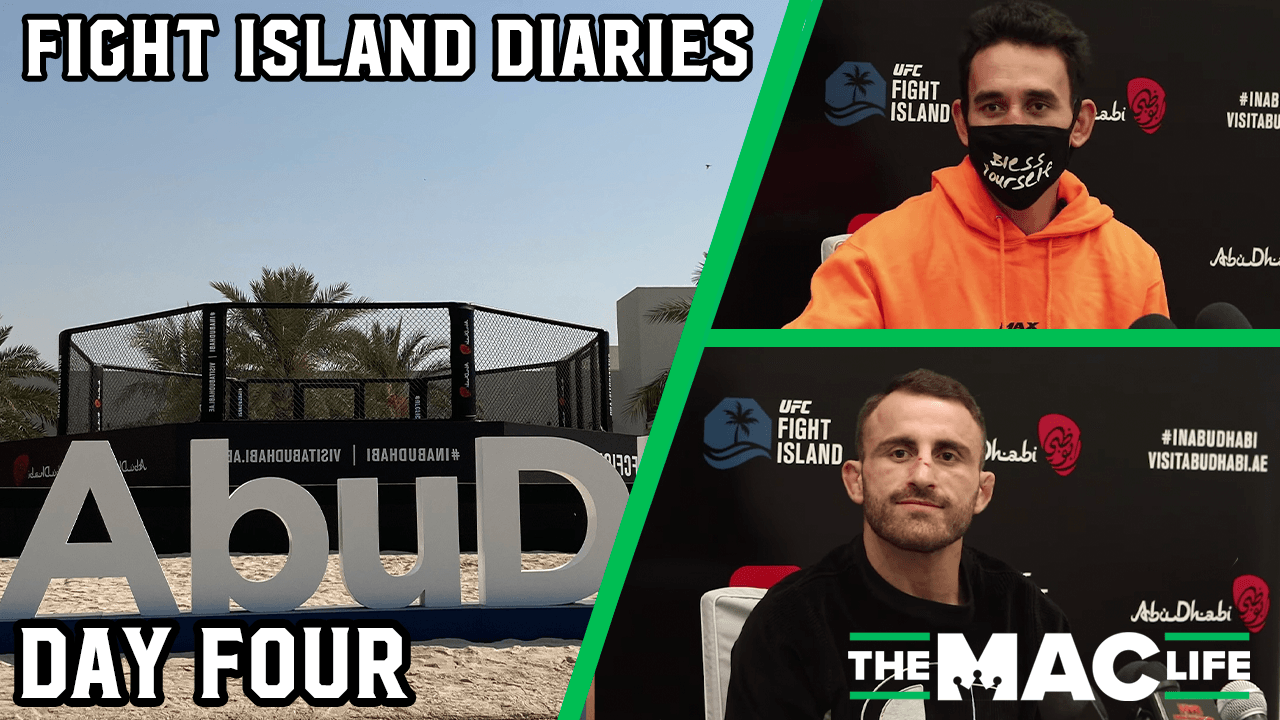 "Freedom! (I won't let you down),
Freedom! (I will not give you up),
Freedom! (Have some faith in the sound)"
– George Michael
I am out of quarantine, I am out of the hotel, I am out in public, and yes, I am sunburnt.
We got let out of our rooms at around 8 this morning, and immediately I headed outside to head to this near-mythical Octagon on the beach. As local authorities don't really want people just wandering around, I was put onto a bus and taken to the nearby golf course, which from there I went in a buggy to the beach.
I have to say, despite the fact it's just serving an aesthetic role, the cage on the beach does look the bollocks. With the bright sand, the blue sea and palm trees dotted around it, it's hard to deny it looks anything than outstanding.
— Oscar Willis (@oscarswillis) July 7, 2020
Once that self-organised little tour was over, I headed back to the hotel and got ready for our first part of the Fight Island content bonanza — two media scrums with featherweights Alexander Volkanovski and Max Holloway.
I have to say, the crazy sleep schedule is starting to get to me though. I've been up since midnight at it's 5 pm, I'm bloody knackered. Bags under my eyes are bigger than the ones that went into the plane's cargo hold on the way here. If they get any worse I'm going to look like some giant anthropomorphic goth panda thing.
—
Just returned from the media scrums, which were the first pre-fight interviews we've had in-person Israel Adesanya vs. Yoel Romero back in March. The difference between them and the online virtual media days — which are an unfortunate reality of the world we currently inhabit — is night and day.
When a fighter is being asked questions from a blank screen, they have no incentive to give detailed and thoughtful answers. They aren't talking to someone, they're talking to something. The scrums get lower energy and become far more generic. There's nothing wrong with that, in fact, it's probably easier for the fighters, but when you talk to an athlete in person you can pick up so much more.
Case in point with Volkanovski and Holloway today.
Volkanovski is clearly irritated with Holloway's apparent disbelief regarding the result of the first contest and even said the pre-fight talk would make a win and finish even sweeter come this weekend.
On the flip side, Holloway couldn't be more relaxed if he tried. It's an added spice to a fight that wouldn't have had it without an in-person interview. I missed them.
–
Comments
comments