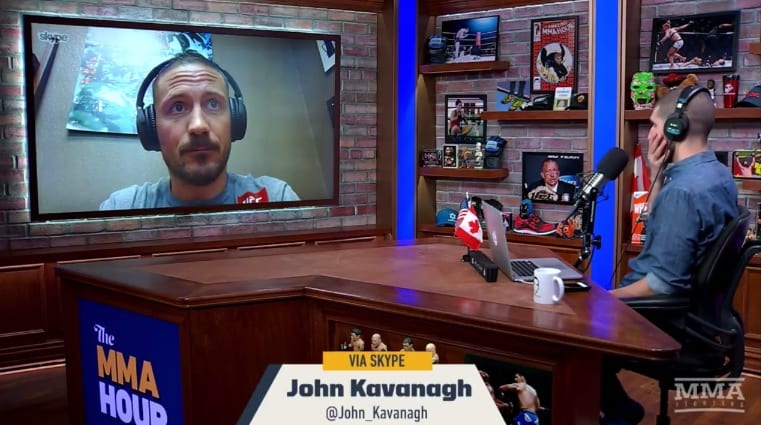 John Kavanagh provided an update on the state of the appeal of Gunnar Nelson's defeat to Santiago Ponzinibbio in the main event of UFC Glasgow last month. Nelson was knocked out in the first round by the Argentine striker but instant replays showed that Nelson was eye-gouged on four separate occasion during the brief contest.
Nelson lodged an appeal shortly afterwards, claiming the illegal shots directly led to the conclusion of the bout. Since the fight took place in Glasgow where no official commission is in place, the appeal will be presided over by Marc Ratner, the UFC's vice president of regulatory affairs.
Speaking to Ariel Helwani on Monday's edition of The MMA Hour, Kavanagh said that failure to overturn the result of the bout could set a dangerous precedent for the future of mixed martial arts.
"I believe it was four eye-pokes in 82 seconds and to be clear, I'm not actually disputing any of them except the final one. For example, the first one was really bad but Gunni chose to go forward because he felt he had him rocked. Like any sport, if you play through the foul that's on you," Kavanagh said.
"The last one is the one I was really stressing with the commission. He pokes him in the eye [and] Gunni is blinded and puts his hands out with his eyes closed and then he gets knocked out. If that's not a fight-ending foul, I don't know what would be a fight-ending foul. How is he supposed to indicate to the referee in the second between putting his hands out and getting eye-gouged and knocked out? He couldn't, there was no time.
"The [appeal] decision has not been made yet. The commission have to be very careful on this decision because I think it's sending a very clear message that eye-pokes are legal if this is not a decision reversing incident. If this doesn't make it a no-contest, I think it's sending a clear message to fighters [that] hey, this is a good technique. Poke them in the eye. When they can't see, knock them out. Either makes eye-pokes legal and then I'll stop moaning about it or they are illegal and that is seen as a fight-ending foul and therefore a no-contest. Let's run it back, as they say. Let's do it again."
.
Comments
comments