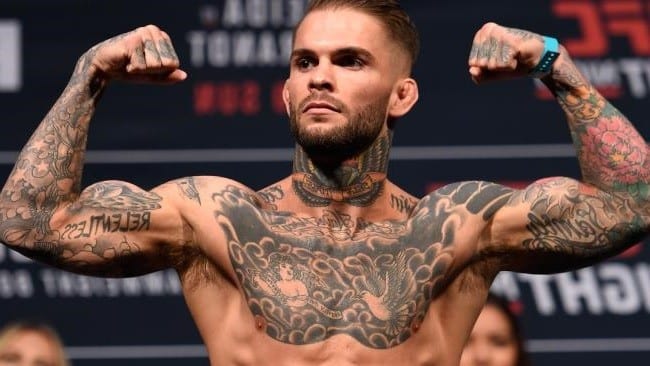 Despite USADA overseeing the UFC's drug-testing procedures for years now, former UFC bantamweight champion Cody Garbrandt says that some things are still falling through the cracks. 
Garbrandt has a pair of losses to former teammate-turned-rival T.J. Dillashaw who would later be barred from the sport for a period of two years after testing positive for EPO in the wake of a defeat to Henry Cejudo in January, making Garbrandt wonder how things might have been different had he faced a 'clean' fighter.
"But I know I'm the best in the world, drug free," Garbrandt said via MMA Junkie. "I've had over 40 tests from USADA, and there's nothing that's been illegal."
View this post on Instagram
Garbrandt has long accused Dillashaw of taking EPO, reiterating them in the year before the former champion was suspended and after seeing his accusations turned into reality, Garbrandt says that USADA need to turn up the heat.
"I stated back in 2017 at the press conference that I would like to do more invasive testing with it," Garbrandt said. "We have to log in everywhere we go, we have to answer the door at 6 a.m., piss urine and blood and do work, write down every supplement we have. There should be no boundaries or picos or this or that. You either cheat or you don't.
"We're not in there shooting steroids up and getting big. They're doing the EPO. They're doing all that kind of (expletive) to cardio base. I knew that. I knew T.J. was on that, and that's why I said I wanted more invasive testing. He's been on it for five, six years, and that's not the only thing he's on. There's a lot of other fighters that are on a lot of other (expletive), too."
With the issue of performance enhancing drugs clearly not eradicated even with the introduction of USADA, Garbrandt appears unsure how to proceed. Should there be an all-steroid division, he joked?
"If you're going to draw a line on what we can do or how we can test – you can't keep this sample, you can't detect the EPO – then what are we getting tested for? Let it all be legal, and let's all get juiced up and go in there and (expletive) each other up," Garbrandt said.
"That's ultimately what they want."
Comments
comments