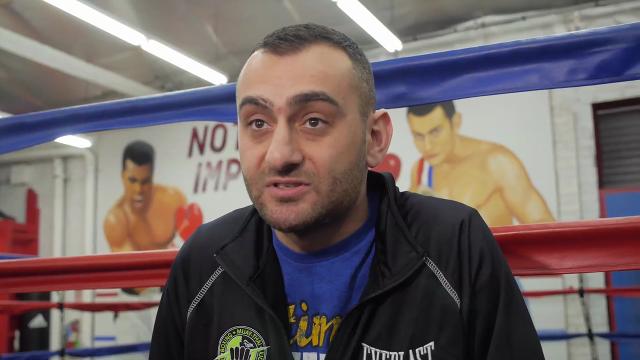 Edmond Tarverdyan has long been an interesting — if controversial — figure in mixed martial arts. The long time coach of Ronda Rousey, Tarverdyan became a renowned instructor after his top pupil became one of the biggest stars in the sports, only to become nearly unanimously derided after Rousey began to lose.
For Tarverdyan, who has remained out of the public eye since Rousey's loss to current UFC women's bantamweight champion Amanda Nunes last year, that criticism has been heard. But while he's prepared to ignore the fans that lobbied Rousey to leave her place at Glendale Fighting Club, he's not prepared to disregard the coaches who laid blame at his door for Rousey's decline, as well as a host of other perceived coaching mistakes.
Recently, Tarverdyan appeared on The MMA Hour, where he had an opportunity to respond to those fellow coaches — and take that opportunity he did.
"There's a coach, Duane Ludwig and this other guy," Tarverdyan said. "I'm gonna mention their names so they could shut up and know what I'm talking about, because they don't know shit and they talk too much. From that CSA gym, Kevin Ross and those guys [who've] trained there; that guy talking shit and posting my video talking to Travis Browne a certain way in the second round, saying that I shouldn't swear and I should give advice."
The video to which Tarverdyan refers is his cornering of Travis Browne during a fight with Fabricio Werdum at UFC 203. In between rounds, an emotional Tarverdyan screamed in Browne's face both advice and expletives.
For Tarverdyan, he was simply attempting to motivate his charge to perform better in a way that he felt Browne would respond to best.
"I know how to speak to my fighter, right?" Tarverdyan said. "You think that I trained Travis Browne, but don't know how to speak to Travis Browne? You do, and I don't? I train that guy everyday, and I don't know how to encourage him or give him advice a proper way, with a proper tone, with a proper voice?
"Listen, I've trained Vic Darchinyan, 10 time world champion in boxing, and I spoke calm in the corner every freakin' round. Why? Because he's such an aggressive fighter. But if I have to shake the fighter to get up and to do it, to believe in themselves, I have to give him that advice, give him that love after, give him that courage, with my voice, and with my voice, I have to."
The reason for Tarverdyan's response to other coaches is simple. Fans can be naive, but coaches are aware of what their reputation means. To be considered one of the best in the world is to have new students arrive at your gym ready to learn. When you're the recipient of blame for fighter losses, it's damaging to your business.
"You cannot criticise me or post something on your Instagram on your home school page. That's disrespectful man," Tarverdyan said. "You have a gym, you feed your family. I have a gym, I feed my family with that gym. I'm saying it in public, so they could all know, I know my shit. Shut up. Those are to the coaches. The public, they don't understand that and they don't know."
Comments
comments