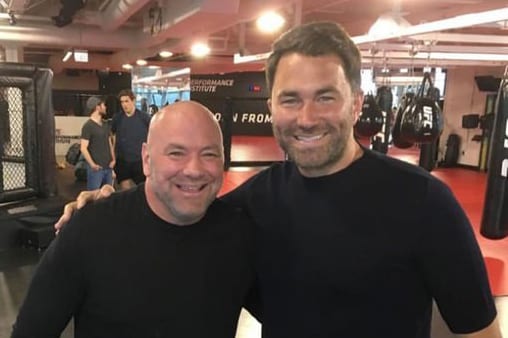 Eddie Hearn wants to see boxing follow the UFC's trend by eliminating extra title belts as early as 2021.
The concept of too many champions in boxing has been a regular discussion that's been reignited of late with names like Roy Jones Jr. and Floyd Mayweather both sharing their opinion that the sport is being hindered by various championships being available to athletes at all times.
According to promoter Eddie Hearn, it's a valid concern, and one he's going to attempt to address over the next calendar year.
"We do [have too many belts]. That's a given. It's not good for boxing at all," Hearn said, speaking to Sky Sports. "You look at the UFC model, which we're all very envious of, which is one promotional company, if you like, and one belt. That's where I want to get to in boxing. It's going to take a lot of work, but we're putting a blueprint together for that and it's something we're going to be pushing hard for in 2021 as we continue to expand."
Hearn's comments about the state of champions in boxing comes as he's preparing to put together a fight between Anthony Joshua and Tyson Fury for the undisputed heavyweight title — something that could fail to materialise if Oleksandr Usyk beats Derek Chisora to become mandatory this weekend.
"I really want the Joshua versus Fury fight to be for the undisputed title," Hearn said. "I've seen comments from their side saying the belts aren't important. The belts are important, and they are important for Anthony Joshua. He hasn't accumulated these belts and sanctioning fees over the years to just throw them away. The dream is to be undisputed."
Comments
comments