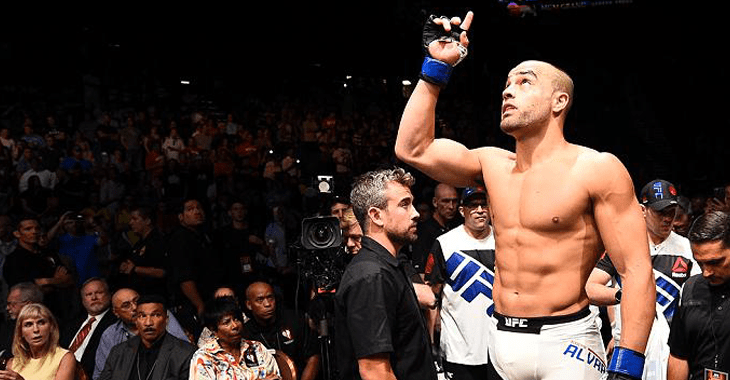 Having not fought since a decision defeat to Conor McGregor in August of 2016, Nate Diaz still appears no closer to agreeing on a return to the UFC cage. 
A healthy representation of fighters on the UFC's lightweight roster have openly tested the waters as to a potential bout with the younger Diaz but, up until now at least, has refused to bite.
Eddie Alvarez, a former UFC lightweight champion, is the latest to throw his hat into a the ring for what would likely be a money-spinning match-up with the Stockton, California, native — and he is referencing a past run in with Diaz in an effort to stoke some flames.
"We almost fought each other in Mexico, I was fighting his friend Gilbert Melendez," Alvarez said of Diaz in an interview with ESNews, as reported by BJPenn.com.
"I beat Gilbert and Nate was angry about it. And so me and Nate almost got into it in Mexico. For sure I'd like to get that match out.
"With Nate in Mexico, I went up to him and said 'Hey why do you keep looking at me like this. I've been cool with you and your brother,'" Alvarez recalled. "So he put his head down and wouldn't look at me but said 'You're fighting my friend so f–k you!'. So I kind of started laughing and said 'Man I'm like 30 something, I've got kids and sh-t, this fight stuff is just business for me. So I laughed it off and then the UFC decided to come in and break us up."
However, if his first instinct was to defuse the situation he intends to harness it to coax Diaz into a bout agreement.
"You know Nate always talks about keeping it real," Alvarez said. "Well keeping it real I beat his friend up right in front of him while he sat cage side and he still didn't do sh-t about it. So if he ever wants to come back, I'm right here! (Nate) can come get this!"
Comments
comments