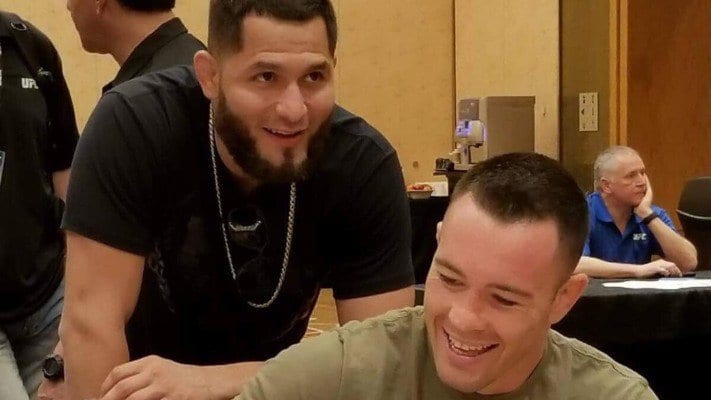 ATT founder Dan Lambert instituted a rule for his fighters in recent days in which he announced a 'zero tolerance' policy when it comes to trash-talking among fighters in his gym — but Jorge Masvidal appears to suggest that this doesn't apply to people talking about Colby Covington.
The two American Top Team members (and former friends) have been engaged in a months-long war of words ever since Covington developed the brash MAGA persona which, he says, brought him from the cusp of being released by the UFC to a world title shot against Kamaru Usman. While Covington was unsuccessful in that bout late last year, he still embraces rivalries with ATT members Masvidal and Joanna Jedrzejczyk.
Now, in response to a report about Lambert's unease at the escalating personal beefs in his gym Masvidal didn't restrain his views on his 170-pound rival.
"F*ck coby (sic). The most fragile most sensitive guy in ufc history," he wrote on Twitter. "Can't kick me out cause this rule was for fighters only. Not crotch sniffers that get their jaw broken by other crotch sniffers. [American Top Team] we all know that dude is no fighter."
It remains to be seen if Lambert will take any form of action for what appears to be a violation of his trash-talking edict but one suspects that this feud won't reach any type of conclusion until both Masvidal and Covington are locked in a cage for twenty-five minutes or less.
Comments
comments