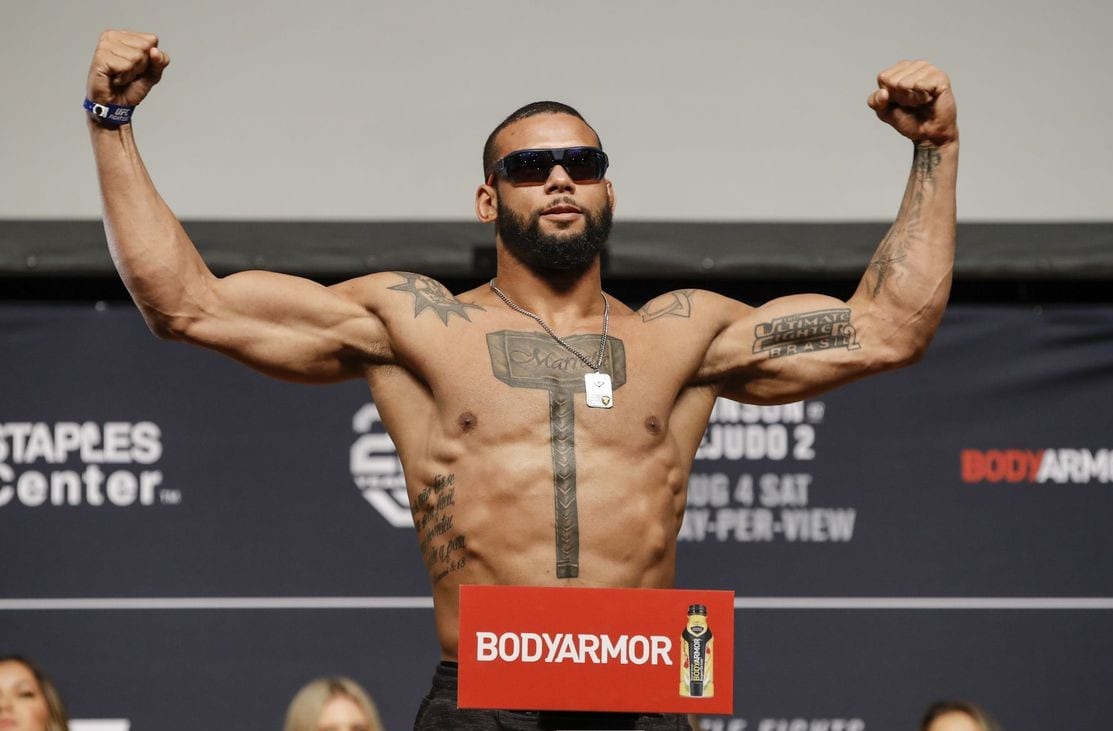 Thiago Santos, the only man who, in the eyes of one judge at least, has outscored Jon Jones through a five-round light heavyweight fight doesn't plan on hanging around if Jones intends to take any sort of break from defending his UFC title in the wake of his latest run-in with the law.
Jones was arrested in Albuquerque a week ago after being found to have been operating his vehicle under the influence of alcohol, in the latest such outside-of-the-cage incident in what is becoming an ever-expanding list for the 32-year-old fighter. Jones pleaded guilty to the charges and has admitted that he has an "unhealthy relationship with alcohol", but has avoided jail time.
The current global health crisis has left the situation entirely uncertain as to when Jones may compete once again but Santos, the man Jones defeated last summer, says that the time has come to take action and institute an interim 205-pound title to keep the division ticking over throughout any presumed absence of the champion.
"I suggested this fight with (Dominick) Reyes in case (Jones) steps away to get treatment, like he said," Santos said to MMA Fighting. "I don't think the division needs to wait. The division can go on, even if it's for an interim belt between Reyes and I, since we both are next in line. Fans were already talking about this fight even before this Jones situation happened, and I said I was willing to fight Reyes, and then Jones fights the winner when he returns.
View this post on Instagram
"It's unfortunate – it's sad," Santos said of Jones' arrest. "I never hid that I'm a fan of the guy even before we fought, and that hasn't changed. Unfortunately he has those problems with alcohol, he posted a statement about it, and those are problems he has to fix. You can't overlook that, but also can't throw rocks at him. It's only up to him. We hope he solves that problem with alcohol and recovers."
Jones has been stripped of the UFC title due to legal woes in the past but there is no indication from the UFC if that will be the situation once again, but Santos says that the prospect of seeing him face Dominick Reyes in a high stakes bout would be a treat for fight fans across the world.
"I think it would be a great fight, belt or not," Santos said. "(Reyes is) a great fighter. He surprised me last time against Jones, he was aggressive and went for it. He showed the great fighter he is, and I love facing challenges. He's a young, fearless guy that comes forward, and that would be a great fight."
Comments
comments