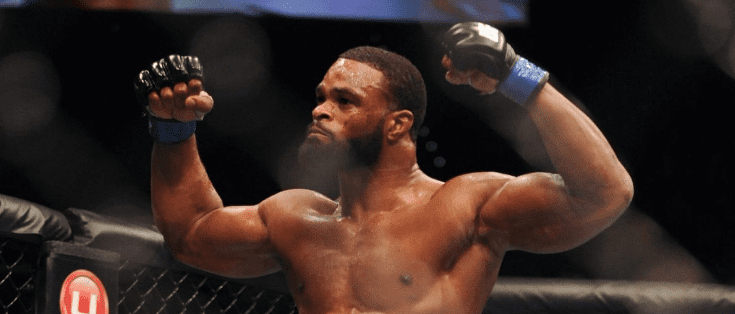 The betting lines heading into the UFC 228 main event suggested that, whatever happens, the match-up between Tyron Woodley and Darren Till would be a close one. In the end, it was anything but.
Woodley started early, pushing the pace on the aggressive Englishman in the fight's opening seconds and rarely let up throughout the 9 or so minutes that the fight lasted before dropping Till at the moment he finally opened up with a strike of his own.
Din Thomas, a former UFC lightweight and coach of Woodley, explained to Luke Thomas on The MMA Hour via MMA Fighting that the gameplan to defeat Till was predicated on pushing forward from the first bell, something which perhaps hasn't been associated with his fighter in the past.
"I don't think anybody expected that," Thomas said of the fight's opening moments.
"This is what I'm saying, we've prepared Tyron to do that in some other fights and it just didn't work out. But when you put that pressure on Darren, I don't think he expected that. You expect Tyron to back up and wait, wait, and wait, so we said we really need to get in his face and make Darren Till work.
"We knew he cut a lot of weight, we knew he wouldn't be able to work for five rounds the way Tyron was prepared to work for five rounds. So we said, we need to get to him early, start creating angles and not allowing him to get that left hand off.
"So that's exactly what Tyron did. He got in his face, took away the angle of the left hand, and everything worked out in our favour."
And it appears to have worked to perfection. Unofficially Till landed just two strikes through nine minutes of action while Woodley arguably put in the most exciting performance of his UFC career. To cap it all off, he was awarded his black belt by Thomas in the moments after the fight.
"His jiu-jitsu ability, it exceeds black belt level," Thomas said. "The reason why I gave [his black belt] to him is because he was supposed to get it a couple of years ago from Ricardo Liborio, but for whatever reason it never happened. I figured that it would be a good experience for him to actually get this if he wins on Saturday night, so I said, 'You know what, I'm going to give him his belt if he wins.'
"I knew he was going to submit him. I had no doubt in my mind that he would submit Darren Till. That wasn't the submission I thought he would use, [I thought it would be a rear-naked choke,] but I knew he would submit him."
Comments
comments