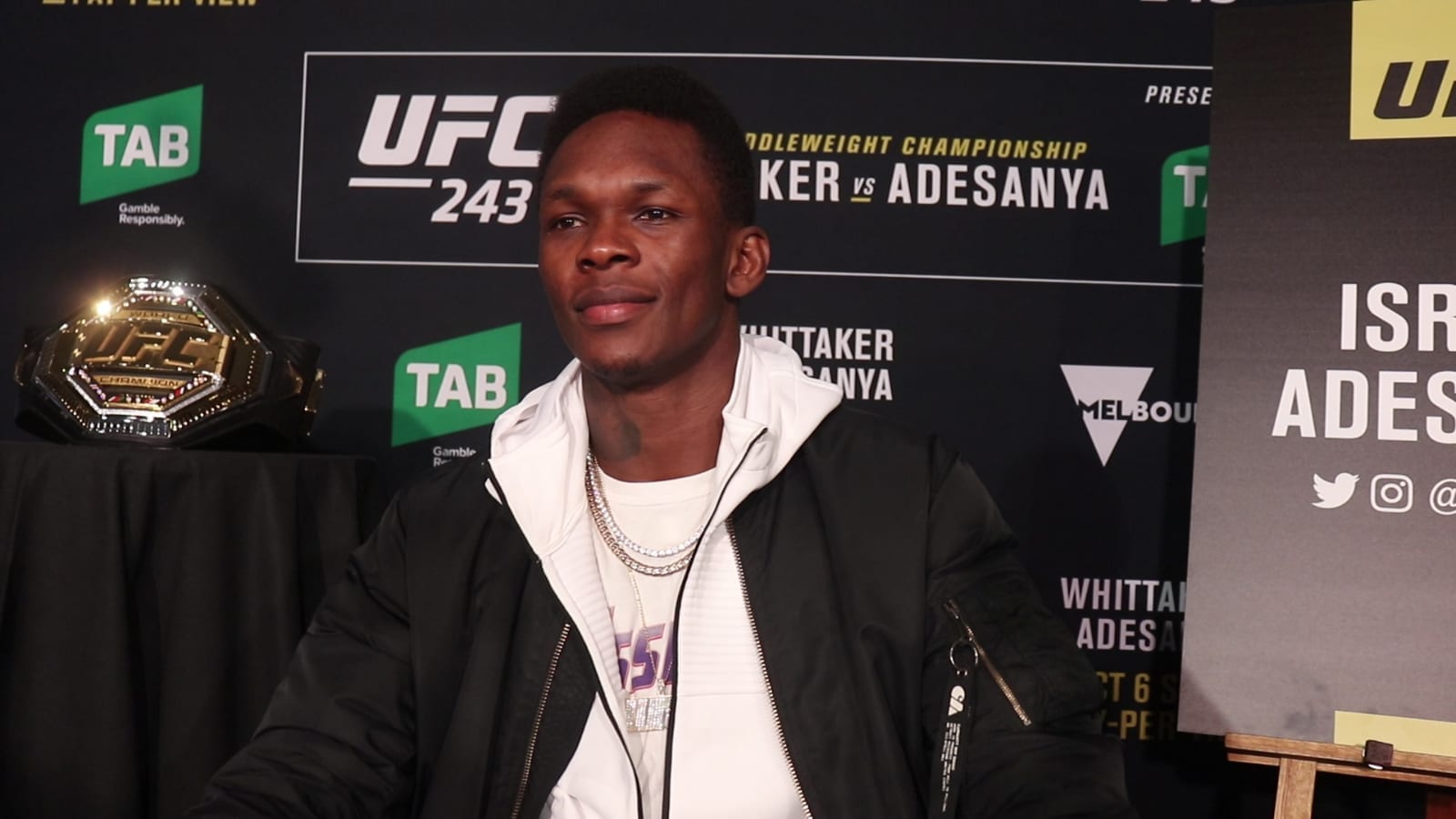 Newly-minted UFC middleweight champion Israel Adesanya doesn't quite know the identity of the first challenger to his world title just yet but he knows that he wants to be an active a champion as possible, and couldn't resist a verbal dig at his rivals when laying out the options for his next dust-up.
Adesanya, 30, has been among the most active fighters on the UFC roster since making his debut with the organisation less than two years ago but speaking with MMA Fighting, 'The Last Stylebender' outlined exactly how he doesn't intend on slowing down now that he is the man with the target firmly affixed to his back.
It had been expected that slugger Paulo Costa would be the next man to tangle with Adesanya but a bicep injury suffered by the Brazilian has placed him on the shelf for the next several months. Despite this, Adesanya says the two will face off eventually.
"I guess he wasn't ready to fight," Adesanya said of his rival. "If he wanted to fight, he would have made sure to do the right things to be in shape already to fight. I don't pull out. My pullout game is weak.
"Unfortunately for him, he might miss his shot forever if he doesn't climb his way back up the ranks."
View this post on Instagram
However, the Nigerian-Kiwi says he isn't going to let injuries suffered by his rivals slow his own momentum. Several others in the division, most notably Yoel Romero, and perhaps even Darren Till, remain potential options. One name, though, which Adesanya is casting his eye over is Jared Cannonier.
The 35-year-old Texan has won three straight at middleweight since dropping down from light heavyweight with successive finishes of David Branch, Anderson Silva and Jack Hermansson — a run which has piqued the attention of the champion.
"100 percent I'm looking at him," Adesanya said of Cannonier. "He's a beast in the division. He's the dark horse in the division. He's the guy everyone is sleeping on but you can't sleep on him because you'll get put to sleep. I think he's the guy, the second most dangerous guy in the division behind myself. I look forward to fighting him after his next fight.
"I was looking forward to my next fight, because that would have sold itself," Adesanya said of the prospective fight with Costa. "Because he would try to trash talk me in his broken English, and I would embarrass him on the mic, and then eventually I'd embarrass him on the mat. So that was already set in stone that it was going to be glorious.
"But a guy like Cannonier, I don't have to. The fight sells itself because of the skill set, and just people want to watch me. Something about me that people just want to watch me get my ass kicked maybe. So they'll be tuning in either way."
Comments
comments