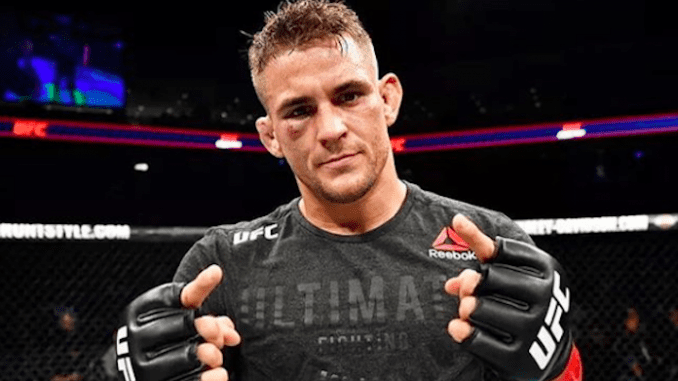 The on-going coronavirus crisis has caused most major sports on earth to shut up shop temporarily but perhaps the only one trying to find an avenue to keep the show on the road is the UFC.
The organisation, undaunted by the cancellation of recent events (including one last Saturday), has steadfastly pushed forward with their desire to hold events in the midst of the health crisis, and have announced a card topped by three world title fights set to take place somewhere on May 9.
UFC lightweight contender Dustin Poirier isn't on that particular card but had been offered a fight with Dan Hooker in mid-May, something which has gone on the back-burner owing to the Covid-19 pandemic. Poirier last competed in September of last year in a losing effort to Khabib Nurmagomedov and, depending on the situation, it could be several more months before he competes again.
View this post on Instagram

The work doesn't stop.💎 #paidinfull #eldiamante #fightthegoodfight
Either way, Poirier says he is 'staying ready' — but doing so in the midst of the pandemic is easier said than done.
"I'm staying as ready as I can," Poirier said to MMAFighting. "I can't train. I can just run and hit bags pretty much. We'll see what happens. I'm staying in decent shape but that's not fight shape. That's not fight camp shape. That's not peaking for a fight. That's just general health staying good. Staying crisp with my boxing. Stuff like that. Doing what I can do.
"Fortunately for me, I have a gym three miles away from my home, a personal gym. So I can go and hit the bags and shadow box. I have a couple buddies who have pro experience in Lafayette, La. so they'll come meet me and we'll wrestle a little bit here and there. Other than that, it's just stuck in the house thinking. I don't know what's going to happen in the next couple months."
Bar the loss to Nurmagomedov, Poirier's recent form in the cage has been exemplary and he says that his primary motivation is do engineer the opportunity to once again fight for the gold.
"I'm trying to get back to the title," he said. "I just want big fights. I want the highest ranked guys I can get. I just want to get back in there and get my hand raised."
Comments
comments