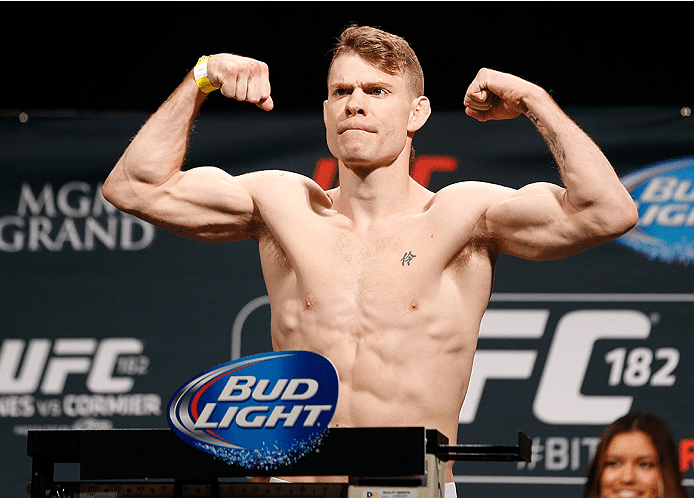 Paul Felder says it didn't take him long to balance the risk and reward in front of him when he agreed to step in for Islam Makhachev against Rafael Dos Anjos at UFC Vegas 14 this weekend. 
Felder, who openly flirted with retirement following a February loss to Dan Hooker, will trade the commentary desk for the octagon on Saturday when he takes on former lightweight champion Dos Anjos on just five days notice in the UFC Apex on Saturday and he says that despite the almost complete lack of preparation time, the juice is very much worth the squeeze.
"Listen, you don't get the things you want in life by being safe and by not taking risks. I've kind of made my career fighting the dangerous guys, doing the crazy things, going to other countries and fighting them in their backyards," Felder announced at the UFC Vegas 14 media day.
"This is just another for the storybooks of the stupid stuff that I do throughout my career. It's what I've made my career off of."
View this post on Instagram
It speaks to Felder's commitment to staying in shape even out of a fight camp that this weekend's contest remains at 155-pounds, and will also take place across five rounds. Few would have thought twice if Felder requested a catchweight fight, or wanted three rounds instead of five, but he says that his willingness to go the extra mile will be reflected in his paycheque.
"I want to make all the money and I want to get some extra money," Felder said. "You want to negotiate for bigger paychecks and extra stuff you can't be like 'but uhmm, it's gotta be this, this and this.' Then they'll be like 'OK, we'll give you a catchweight, OK, we'll give you three rounds, but you're not getting anything else.'
"If you want to get more out of it, you've got to be willing to do some stuff, too. So I was like all right, I'll do '55, I'll do five rounds, but I want this and here we are."
Whatever happens inside the cage on Saturday night, Felder says that he will wake up Sunday morning knowing exactly where he stands in the deep lightweight field.
"I'm stepping in on five days' notice to fight an absolute legend in RDA," Felder said. "If I lose and he takes my ranking, OK, then I know that maybe I'm not meant to be fighting for the title anyway. So that path is still there. With a win, how can you argue to not give me a fight that I really want with one of these top guys and one of these exciting matchups at 155 pounds? For me, it just made sense."
Comments
comments