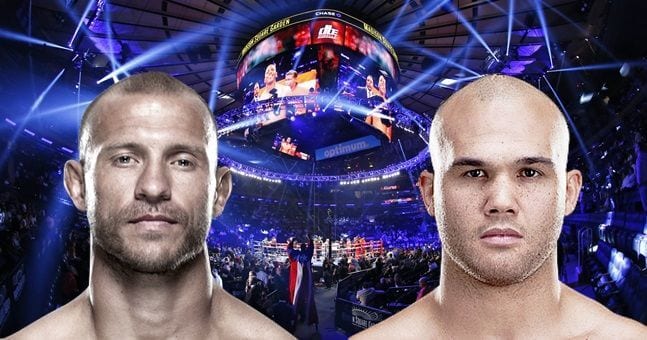 The fight that all fans wanted to see take place at UFC 205 in Robbie Lawler versus Donald 'Cowboy' Cerrone has finally been rebooked.
As first reported by Brett Okamoto of ESPN, UFC president Dana White has confirmed the bout agreement has been signed and the welterweights will meet each other on July 8 (international fight week), at UFC 213.
It's the first fight officially announced for what is traditionally one of the UFC's biggest weekends of the year.
BREAKING: Per @danawhite, @Ruthless_RL vs. @Cowboycerrone is a done deal for UFC 213 on July 8 in Las Vegas.

— Brett Okamoto (@bokamotoESPN) April 3, 2017
As mentioned, the two were originally scheduled to meet each other back last November, only for Lawler to withdraw from the bout. While the reasons were never specified, it's speculated the former champion needed some extra time to recover from his knockout loss to Tyron Woodley, as well as the number of wars he's been involved in over the last few years.
Now though, after nearly a full year away from the cage, Lawler will be back to face fan-favourite Cerrone in a bout that will no doubt be heavily anticipated.
For Cerrone, it's his first return since losing to Jorge Masvidal back in January, a loss that put a halt to a four fight win streak. It was speculated that should Cerrone have emerged the victor of that contest, he'd have been in line for a welterweight title shot and while he's slipped a few rungs on the ladder, a win over Lawler would most likely put Cowboy right back in the mix.
Comments
comments