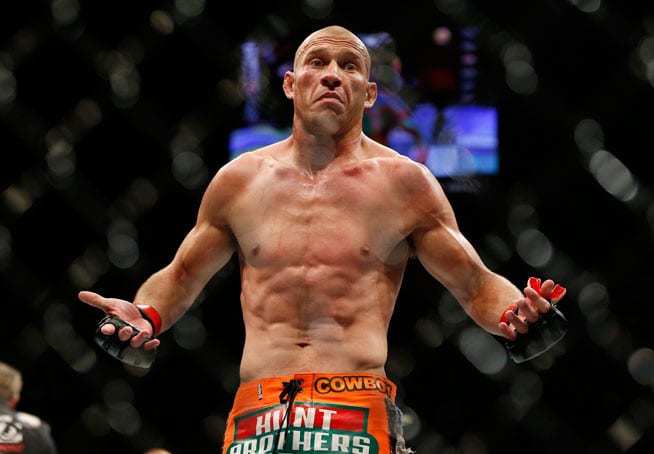 Tomorrow night in Gdansk, Poland, Donald Cerrone will face off against the up-and-coming Darren Till in what could prove to be a crossroads in "Cowboy's" career.
While a win over the Brit would re-affirm Cerrone as one of the top dogs in the UFC welterweight division, a loss would likely push him down the rankings to the unenviable position of 'popular gatekeeper'.
Not that he's anticipating that outcome.
"There's talk that you're saying you're the greatest striker; fucking great," Cerrone said, speaking with the UFC ahead of Saturday night. "I love striking so I'll see you. I'm a fucking veteran. I've been in this game a long time. So for some kid to just think he's gonna come in and steamroll me; motherfucker please. You got to take me to deep water. That's where I live. That's where I'm at. Always.
"[Till] could be a brand new up-and-comer. He could be on his way. But is he right now? No, he's not. There's nothing that Darren Till is going to show like 'wow, what the fuck was that? I've never seen anything like that'. Does he hit hard? Probably. Does he have good striking? Probably. Is he a great wrestler or [at] jiu-jitsu? Good. That's what you're supposed to be at this level to be in the UFC."
No matter what Till brings to the table, Cerrone is so sure of his own resume that he doesn't believe anything will surprise him once the cage door is locked. Instead, he says, he'll be reminding the younger man why the name 'Cowboy' is so revered by fans.
"I've seen it all, man," he said. "I've been there, done it. Motherfucker, I have more fight of the night performance bonuses than you have fights. Definitely giving him a little reality check, for sure."
Comments
comments