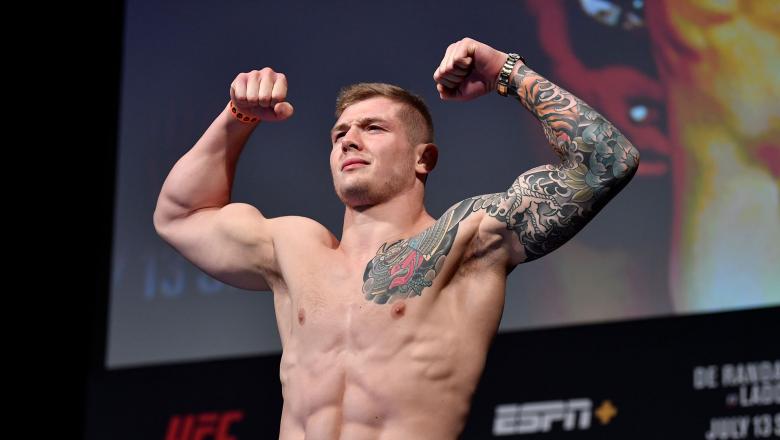 His UFC tenure to date has shown that a Marvin Vettori fight week often comes hand in hand with some drama. 
Last Saturday's UFC main event with Paulo Costa was no different after the fight was changed to a light heavyweight bout on short notice after the Brazilian fighter noted that he was 211-pounds — some 25 pounds heavier than the middleweight non-title limit — just two days out from the weigh-ins.
Vettori would ultimately win what turned out to be an engaging five-round affair and afterwards offered a conciliatory fist-bump to his defeated foe — but speaking to the media afterwards, wasn't quite on board with Costa's reasoning for the weight mishap which he blamed on an injured bicep which made if difficult to drop weight.
"F*cking hell, can't you run with a bicep tear to make weight," said Vettori to the media, including The Mac Life, on Saturday night. "What is that? What is that excuse? That doesn't make any f*cking sense.
"No, [I don't believe it]. You can do pretty much everything with a bicep tear, anyway. It doesn't have anything to do with the weight. You could've said, 'I couldn't throw anything with my right hand because of my bicep tear,' but not, 'I couldn't make weight with a bicep tear.'
I don't like how he carried himself. Nah, I mean, if I see him right now, I probably won't jump him. But I won't share a glass of nothing [with him]. F*ck it. You f*cking go your way, I'll go my way. You f*cking lost, you're gonna give me 30 percent of your purse, now go run, fat ass."
Vettori, though, offered an admission that when it came down to it, Costa was ready to fight regardless of the pre-fight speculation.
"I had people all the time telling me, 'He's not ready, he wants out of the fight, he doesn't want to be here.' You saw the performance, he came game. He wasn't out of shape."
Comments
comments