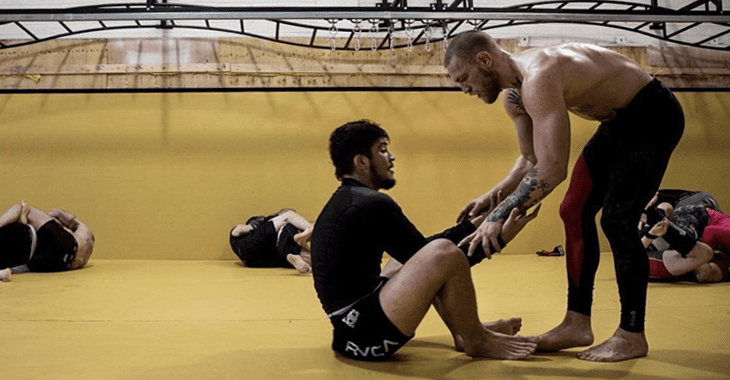 Dillon Danis wants to fight Ben Askren and he wants to fight him bad.
So bad, in fact, that the jiu-jitsu star and Conor McGregor training partner would willingly put a huge sum of money at risk just to get the contest booked. Speaking on Ariel Helwani's MMA Show earlier today, Danis made the pitch of a cross promotion between Bellator and the UFC so he can meet the undefeated wrestler in the Octagon.
"I really want to go against Ben Askren though, that's what I want to do," Danis said, speaking on the Ariel Helwani MMA Show. "I was talking to [Scott] Coker, we should do a cross promotion. I'll put up a million dollars, because it would be the easiest fight ever.
"I would tap him so easy, it's actually a joke. He's so un-athletic, he's so bad on the ground."
Make no mistake though, while both men are renowned for their grappling abilities, it's a fight that Danis is seeking.
"Grappling match? That wouldn't even be a match. That would be like 20-30 seconds. A fight, I'd still beat him in the first round. He wouldn't want to fight me. It's too easy. He knows it too, because I know his weaknesses, I say it and he's like, 'oh shit'.
"He can't defend the legs. He's really bad at defending his lower body, especially if I pull guard, he wouldn't know what to do. He punches like a pillow, he doesn't have any power. Against me, if you have no power I'm eventually going to get you to the ground, and he's vey bad at defending his lower body and he gets caught in triangles a lot … he gets caught in a bunch of submissions, but the guys he fights aren't the best submission artists so he doesn't get finished. I just want to beat him before someone else beats him."
That being said, Danis can't help but acknowledge Askren's fights are always worth a watch — desire to fight him or not.
"I actually don't mind watching him fight, all beef aside. He's actually fun to watch," Danis said.
Comments
comments