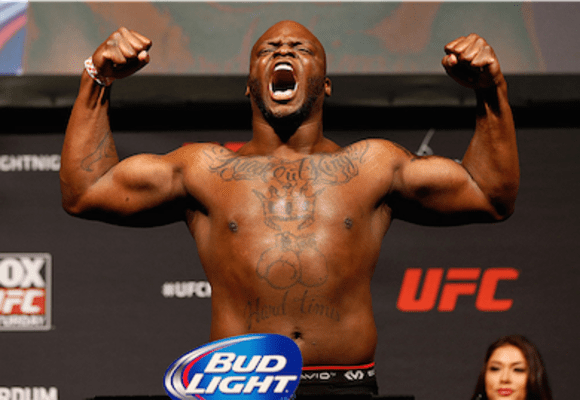 Some time after informing Joe Rogan that the reason he had taken his shorts off in the cage for his post-fight interview because his 'balls was hot', Derrick Lewis' testicles have once again found themselves being discussed in MMA media. 
Lewis, the former heavyweight world title contender, will take on one of the sport's premier submission artists when he fights Aleksei Oleinik this weekend but after two successive wins in which he feels he didn't let his hands go as much as he can, he says he is ready to once again showcase the type of concussive striking which took him to the brink of a UFC heavyweight championship.
"I've been trigger shy," Lewis told the media in Las Vegas ahead of this weekend's event in the UFC Apex.
"I was a new creature. A different type of body coming into the octagon, feeling different, lighter, feeling faster and just wanted to test it out. Now that I've tested it out going all three rounds in my last two fights, I feel like I'm more comfortable and I can really let loose in the first round and not gas out. That's what I plan on doing Saturday.
View this post on Instagram
"I think you'll see something you haven't seen from me in a long time in the octagon," Lewis added. "I'm going to come out balls blazing."
The prospect of Derrick Lewis coming out with his balls blazing is a frightening proposition for any fighter, particularly when he explains what he means by that particular phrase.
"It will be more active for myself instead of being more patient and waiting till the last 10 seconds of the fight. I'm going to be more active this fight is all," Lewis explained. "This fight takes me to a new level. I'm feeling completely different fight week than I have in the past. I feel like I'm just getting better. I really want to show the fans and show everyone that I have got better."
Comments
comments