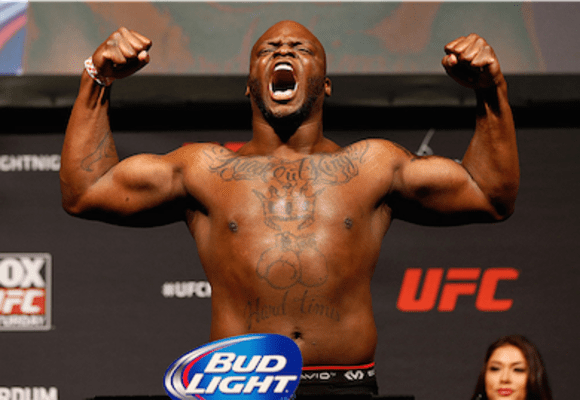 Greg Hardy's arrival into (or at the very least near) the UFC has brought with it an understanding amount of criticism.
The former NFL player won his fight on Dana White's Tuesday Night Contender Series this week, and while he didn't earn a contract to jump straight into the biggest promotion, he did bag himself a developmental deal, where he would be under contract with the UFC while he gained more experience outside of the organisation.
The controversy comes with Hardy's past. In 2014, Hardy was arrested for assaulting his ex-girlfriend and received 18 months of probation for domestic abuse. He was subsequently released from his contract with the Carolina Panthers, although the charges were later dismissed after the alleged victim failed to make herself available as a witness during a legal appeal.
His seemingly near arrival to the UFC has raised plenty of questions as to how ethical it is to promote a man with such a history.
One man already in the UFC, Derrick Lewis, has long spoken out against those who commit domestic violence, having suffered a bleak upbringing and seeing his parental figures clash time and time again. Throughout his tenure in the UFC, Lewis has been very vocal about his opinions on the matter — and such is the case with his thoughts on Hardy.
"I watched the fight," Lewis said. "I think he look good but as soon as the fight ended, I started thinking about his ex-wife and I was like, 'I wonder if he ever hit her like that'. I don't know, man. I really don't like guys like that, because I grew up with a troubled past, seeing my stepdad fight my mum just about every single day. I don't even remember one day they didn't go without arguing or fighting."
It's also not the first time Lewis has brought the topic up in regards to a specific fighter.
Both before and after his contest with Travis Browne, Lewis brought up the allegations made by Browne's former girlfriend, in which she claimed the heavyweight assaulted and bruised her. Browne was independently investigated by the UFC, who re-instated Browne to the promotion after they found "inconclusive evidence."
According to Lewis, it's a motivating factor, and one that would have him relish the opportunity of facing Hardy should he ever make it to the Octagon.
"Of course," Lewis said. "I love fighting guys like that. More motivating fighting guys like that. I was more motivated to fight Travis Browne whenever I did. So I would like that match up."
Comments
comments