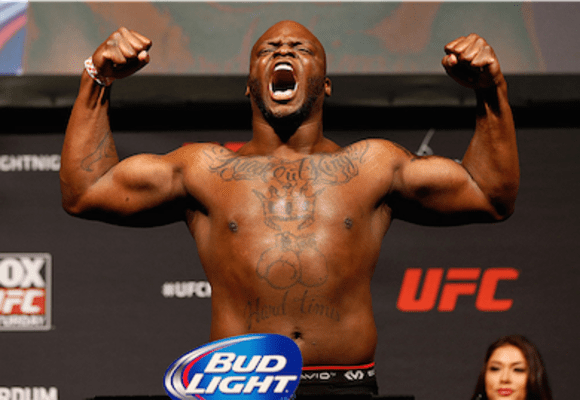 Derrick Lewis likes getting paid. Derrick Lewis doesn't like Francis Ngannou. So it makes sense that Derrick Lewis would like to be getting paid as much as Francis Ngannou.
Lewis meets Marcin Tybura this weekend at UFC Fight Night 126, where he's looking to get back to winning ways after losing to Mark Hunt last time out. But while it's always nice to get a payday, he can't help but see his rival Ngannou is getting substantially fatter cheques.
"Now that I've seen that — what's his name — Francis? He got $500,000 just fighting for the belt," Lewis said, speaking on MMA Junkie Radio. "Let me fight for the belt next. They can give me $500,000. Shit, I'm going to gas out too. Guaranteed $500,000? You don't have to worry about me training before a camp. I'll be drinking a beer right after weigh-ins."
Ngannou and Lewis have been going back and forth for quite some time. Where the feud started, it's hard to say, but Lewis has long felt disrespected by the Cameroonian, who in turn appears to not consider Lewis on a similar level of ability. The two are yet to meet in the cage.
Not that Lewis isn't preparing for the event, albeit somewhat unconventionally.
Last week, frustrated by internet challenges, Lewis held an open sparring session for anyone who wanted to come and test the heavyweight. For some reason, some people actually took him up on the offer.
"The guy came Wednesday, I sparred him, and I knocked him out in the first few seconds," Lewis said. "Saturday, when the invitation wasn't open any more, some random dude came up. Big guy. And I head-kicked him the first few seconds too. We've got video on them both. I can't post it because the coach is talking about a lawsuit, even though he signed a waiver.
"He said he didn't know I was going to throw kicks."
Comments
comments