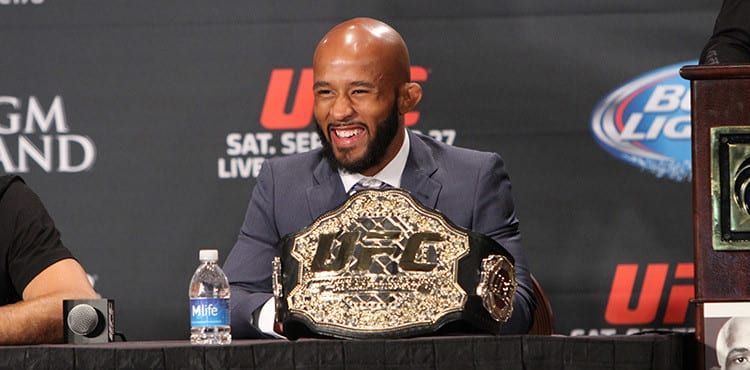 Demetrious Johnson showed up in Canada last week ready to fight Ray Borg and defend his world flyweight title. While Borg may have pulled out of the contest, Johnson himself was still ready, and so he feels he should receive a form of payment for his training.
According to the 125-pound king, however, that payment is yet to arrive.
Technically, in mixed martial arts an athlete must step onto the scale at the correct fighting weight to be able to demand their cheque regardless if a contest is cancelled. Borg withdrew from the contest on Thursday evening, a day before weigh ins. That being said, Johnson still put in the weeks of training, and has his own financial commitments that don't wait.
While the UFC are looking to put Johnson vs. Borg on the next available card (UFC 216 on October 7), Johnson still wouldn't mind receiving compensation for the time already spent on this contest.
"Obviously they're trying to re-book this fight as soon as possible," Johnson said, speaking on today's TheMMAHour. "Which will be twenty days, so I got to go back into training camp for another 3-4 weeks. Usually if it's a quick turn around, then typically they don't pay the athlete. But hopefully they do make this happen on October 7, if it's possible, so then I can get a pay cheque.
"As far as I'm concerned my black ass should be going to the bank to deposit a cheque right now and taking my kids to school. But that's not happening."
At the moment, Johnson's newly hired management team headed by Malki Kawa are dealing with the UFC in an attempt to resolve the issue, and for now Johnson will have to sit back and await the decision. In the meantime, he'll just continue to stay ready — although don't think he isn't paying attention to the issue.
"Don't get me wrong," Johnson said. "The first thing they told me when they said 'stop cutting weight' — the first thing I said was 'how the fuck do I get my money? Do I need to finish cutting weight so I can jump on the scale so I get my pay cheque?'
"All I can do is do what I do best, get ready for my fight and hope he shows up," Johnson said. "I got to go out there and put this man away and make sure you guys have a champ that's always going to show up, always going to fight and always going to make weight."
Comments
comments