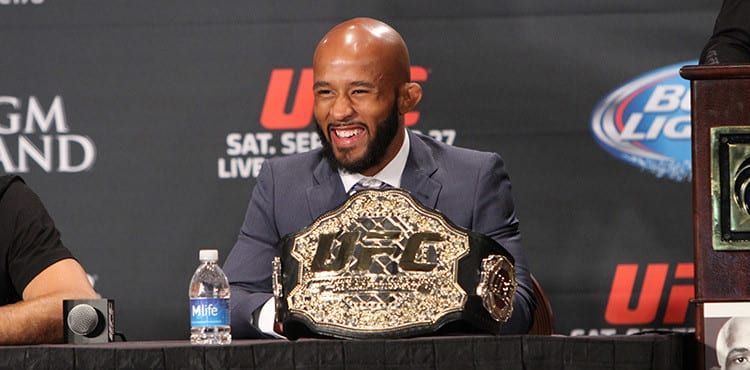 If fans were excited by the prospect of Demetrious Johnson potentially having to face T.J. Dillashaw before breaking the record for most title defences, then they might be disappointed.
With UFC bantamweight champion Cody Garbrandt suffering from a back injury that could potentially rule him out of his scheduled bout at UFC 213 with Dillashaw, Dillashaw had begun publicly calling for a bout against Johnson in the meantime.
The UFC flyweight champion, a man regarded by most as the top of the pound-for-pound list, has poured water on the idea of Dillashaw facing him later this Summer after claiming that there are more deserving contenders for the 125-pound title.
"There's other challengers in the division with more wins and on a winning streak," Johnson said, speaking with MMAFighting. "This wouldn't be a super-fight because TJ is not a champion. He's just a 135er coming down to 125 to skip the line that other flyweight competitors have worked hard to climb.
"Now, if he was a champion, there'd be something there."
In response, Dillashaw (also speaking with MMAFighting) made it clear that while he understood the idea behind Johnson's words, he feels that his name value and skills alone should put him at the top of the heap when it comes to flyweight.
"First off, I believe Joseph Benavidez is the rightful contender," Dillashaw said. "Since he is out with an injury and it looks like I'm out of a fight as well, timing is presenting the opportunity to fight the best pound-for-pound and stop him from breaking records.
"He needs to understand that this will be his biggest fight possible to make the most money, since he was so worried about making money after his last fight. I have tons of respect for DJ as a fighter and a person. I'm not trying to talk trash, I just want to fight the best. Let's glove up and make us some serious money. No one wants to see him fight someone he's beaten or never heard of to break the record. He's the pound-for-pound king so let's make this interesting."
Comments
comments