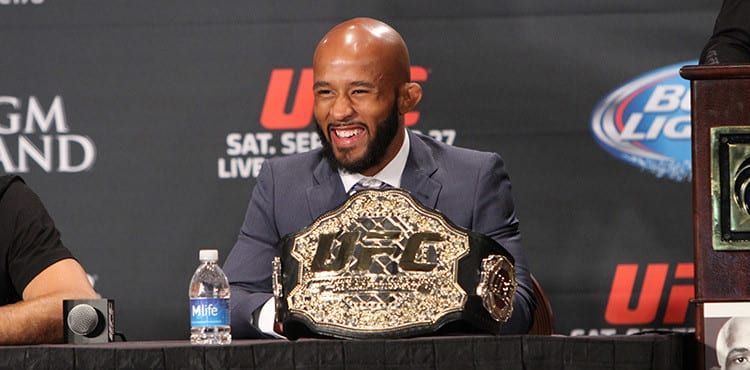 It could readily be argued that Demetrious Johnson has felt slightly underappreciated by the UFC during his tenure as the organisation's flyweight champion.
'Mighty Mouse' made no secret of his displeasure at the UFC, as he sees it, attempting to rail road him into a flyweight title defense against T.J. Dillashaw last year — an opponent who had never competed at 125-pounds before. Johnson, per reports, said that he wanted guarantees from the UFC as to his compensation should Dillashaw fail to make the contracted weight. Added to that, Johnson was one fight away from breaking the all-time title defense record in the organisation,
As we now know that particular bout failed to come to fruition and instead Johnson fought and defeated Ray Borg, defending his title and claiming history in the process. Now though, with the 125-pound frame lacking any clear contenders to challenge Johnson, he appears to have opened the door to a superfight with Dillashaw, who has since claimed the UFC bantamweight title.
Johnson is targeting a return in the summer once he has recovered fully from the minor shoulder surgery he had at the turn of the year and, speaking to ESPN (via MMAFighting), he says that he wants to return for the biggest fight possible on the grandest stage of them all.
"It's the superfight everyone wants," said Johnson of a potential champion vs. champion bout. "I think TJ and I are both on board. We just want to make sure it's on a stacked card. We want to make sure we can benefit from a good pay-per-view buy. I think I deserve it, and I think he deserves it.
"I'd rather have somebody else main event, [someone] who is going to bring in way more PPVs. In my opinion, that's held up the fight on my end. I've seen guys jump on [stacked] PPV cards and make $1.5 million, fighting an inferior opponent than who I'm about to fight. Me and TJ could fight on a smaller card and pull 275,000 buys, get an extra check for $75,000. My management told me, 'You know what, we'll hold out for a big event.'
"A lot of media and fans think that's a way of turning down fights or ducking someone, but that's a way of being a smart businessman and getting the most money you can get. … I'll wait for that opportunity, because in that one card, I'll basically make more money than three fights — a year and a half of my life — [combined]."
In spite of his status as the best flyweight fighter in history, as well as his status at the summit of the pound-for-pound rankings, mainstream success has eluded Johnson throughout his career but logic dictates that placement on a high profile card during the UFC's annual International Fight Week could open the door to a wider audience — as well as a paycheck befitting his skills.
"If we can get three title fights – a champions vs. champions edition – that should do well," Johnson said. "If they did Georges St-Pierre vs. Tyron Woodley, Amanda Nunes vs. [Cris] Cyborg and me vs. TJ, they can send me the contract. They can negotiate that contract now."
However, Johnson's demands are simple: if the UFC want him on a massive card, he would be happy. If not, he says, keep the flyweight ticking.
"I'm straightforward," Johnson said. "If UFC comes back and says, 'You know what, Demetrious, we're not going to give you that,' I'll say, 'Perfect, send me the No. 1 contender in the flyweight division and TJ can stay up and fight whoever he wants.' That's how I am when it comes to this.
"I'm not going to sit here and f**king argue. 'This is what I want. If you're not going to give it to me, that's fine. I'll just keep fighting guys in my division. You want to strip me? Fine, perfect. Strip me. I'll work my way back up the ladder.'
"I've beat everyone in my division. Now I'm waiting for my opportunity to be on the kind of card that makes that kind of money. And I'm not trying to piggyback off anyone else. I feel I bring a lot to the table – 11 title defenses. I should get that opportunity. If people disagree, that's their problem. That's what I feel I am worth."
Comments
comments