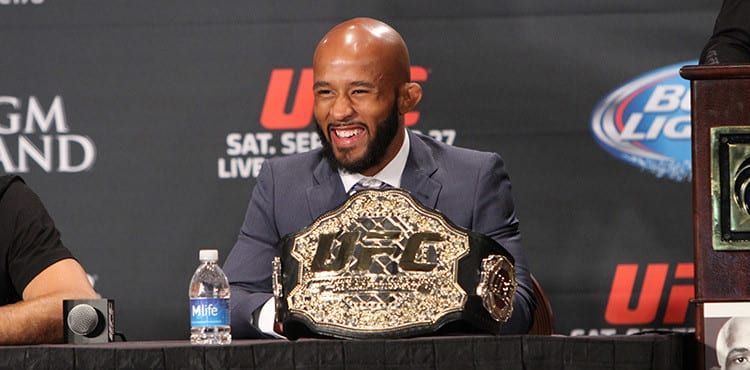 Well, well, well. Demetrious Johnson's coming out firing on this Wednesday morning.
After the UFC flyweight champion raised eyebrows earlier this week after hitting out at fans who continued to push for him to move up in weight, Johnson is now taking shots at his fellow competitors — namely, former women's bantamweight champion Ronda Rousey.
In an interview with Sports Illustrated, the flyweight king spoke on various issues, including if the pressure of so a record number of title defences ever gets to him. In response, Johnson claimed that it didn't, and he tries to put himself in a frame of mind where a loss wouldn't be the end of his world. Something, Johnson says, Rousey failed to do.
"I visualise myself losing most of the time just because I've seen so many champions lose, and they don't know how to take it," Their whole world is upside down: 'oh, my God, what am I going to do?' You look at Ronda Rousey. You got your ass beat, grow the fuck up. It happens. It's mixed martial arts. I don't want to be like that. If I lose, I'll be like, I lost.
"Everybody fucking loses. It's part of the sport. Grow up. Look, Ronda, you lost two fucking fights in a row, and you made more fucking money than the women's roster. You'll be fine, don't worry about it."
Rousey has been more out than in mixed martial arts for some time now. One of the biggest stars in the sport, Rousey seems set to walk away after two devastating losses in a row, most recently to Amanda Nunes at UFC 207.
However, she is yet to formally announce her retirement.
Comments
comments