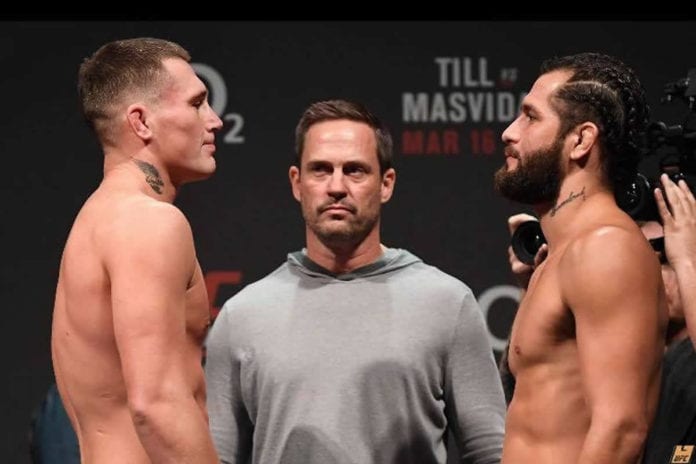 Darren Till says he feels nothing but happiness for Jorge Masvidal's rapid rise over the year, and can't wait to watch his former foe's fight with Nate Diaz.
Till is set to feature in a co-main event role at UFC 244 in Madison Square Garden, which is headlined by Masvidal vs. Diaz. It culminates a fantastic 2019 for Masvidal, who used brilliant knockouts over Till and Ben Askren to propel himself to the top of the welterweight division and into mainstream attention.
For Till, that's been fun to witness.
"It's just surreal [to fight at MSG], especially as the main event is a former opponent," Till said at a media day in Nottingham. "A lot of people have asked me what I think of it, truthfully from the heart deep down, not one bit of jealousy or being a green eyed monster there. It's just pure.. I'm happy for Masvidal that he's got that main event spot. It's true a hundred percent from me. I'm there still co-maining. … It's like a joint venture there."
Till meets Kelvin Gastelum in his first fight at middleweight. While the move has long been considered as a necessity for Till, and likely means a rematch with Masvidal is unlikely, Till says he's just happy to have helped Masvidal find such success.
"I've got no negativity towards Masvidal at all. If he's making millions, fair play to him," Till said. "Since that fight we've had, he's only got bigger, and I'm happy to have helped him with that. Even if it was the downside to me. I just can't wait to fight and watch them two fight. I'll be back in the green room as a fan of the fight game."
Should Masvidal win over Diaz, it seems a fight for the 170 pound title against the winner of Colby Covington vs. Kamaru Usman would be next.
Comments
comments