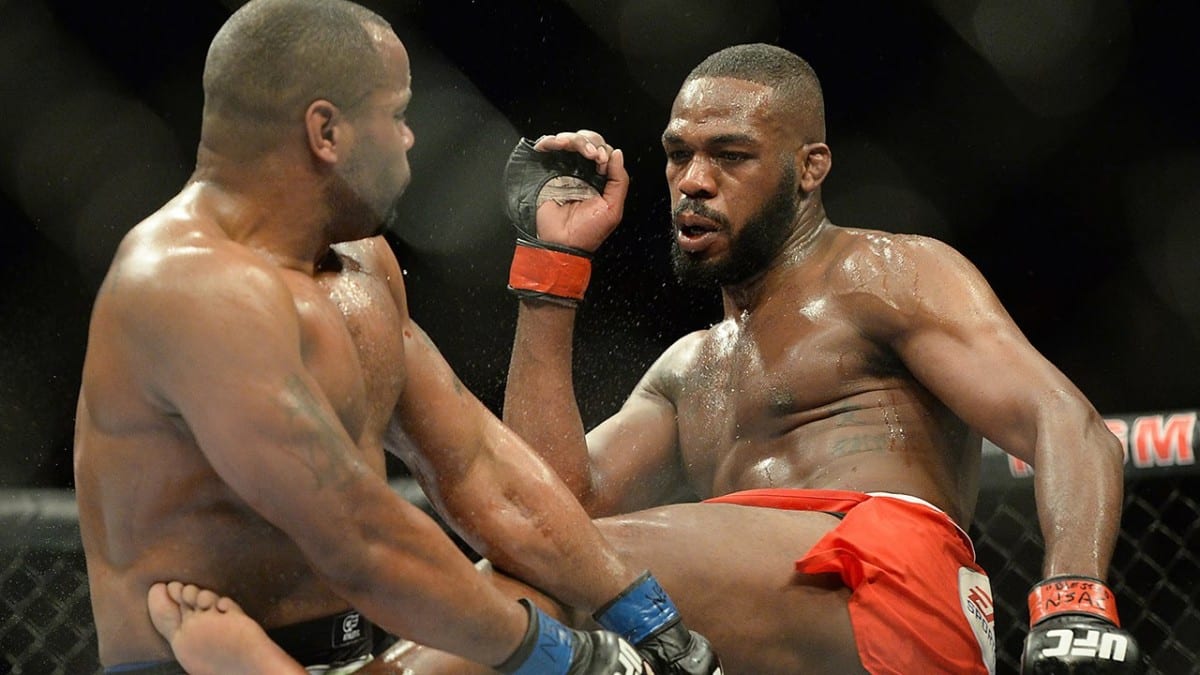 Daniel Cormier is unimpressed by the storm of tweets Jon Jones fired out on Saturday night.
Jones had a vested interested in UFC 253, with co-main event Dominick Reyes vs. Jan Blachowicz competing for the title he just vacated, and having been in a long-running war of words with main event star Israel Adesanya.
Amongst other things, Jones mocked Adesanya for (what Jones considered) avoiding him, as well as mocking Reyes for failing to win a fight that came on the back of his controversial defeat to Jones himself — something the former champion clearly had paid attention to. Jones, who is in the middle of a move to heavyweight, suggested he would move back down to 205-pounds to reclaim his title now that Blachowicz was the new champion.
All of the above, it seems, was enough to irritate Jones' former rival Daniel Cormier, who shared his bemusement with Jones on his ESPN podcast.
Would you guys be annoyed if I went back and grabbed my belt real quick?

— BONY (@JonnyBones) September 27, 2020
When served humble pie it's best to just sit down with it and eat it slow. Trust me, I've been humbled several times throughout my career. He'll be all right https://t.co/194GSMOdwZ

— BONY (@JonnyBones) September 27, 2020
Anyone can have a world-class performance when all the stars align. But can you do it performance after performance, compete with the absolute best for over a decade? The truth is, most can't.

— BONY (@JonnyBones) September 27, 2020
"That's so whack. Have you ever met a guy that's so out of touch? He's so out of touch," Cormier said of Jones. "It's like, OK, Jon, then why not just go, 'I was afraid of Dominick Reyes. Now I want to go back to 205 and fight Jan Blachowicz because he beat Dom'? That's crazy. I mean, who does that? Who does that? He could have fought Reyes. This could have been him and Reyes (Saturday). This was supposed to be him and Reyes. Instead, he gave up the belt. He gave up the belt and said, 'I want to fight at heavyweight.' Now, 'Maybe, I'll go back?' How could you be so out of touch? I don't get it."
In Cormier's mind, Jones will look at Blachowicz as an easier fight than the Reyes rematch, and as such could potentially halt his own move to heavyweight to take a presumed victory.
"(Blachowicz) is too slow to beat (Jones)," Cormier said. "The thing about Jones is people don't realize he's got a good chin. You can hit him. I hit him. A lot of us hit him. He can take punches. If Jan Blachowicz is out there and he's too slow, Jones will pick him apart. God, I can't believe it. Look, if I was still fighting at 205 or if I was still fighting today and you said, 'D.C., you can fight Jan Blachowicz,' I'd probably fight Jan Blachowicz. No disrespect, just because I think… it's surprising, right?
"When you have footage of people getting old victories over him, you think you can do it, too. Any fighter does. If you're a guy like myself or Jones, then, of course, you think you can beat him. That's why Jones will go fight him."
–
Comments
comments