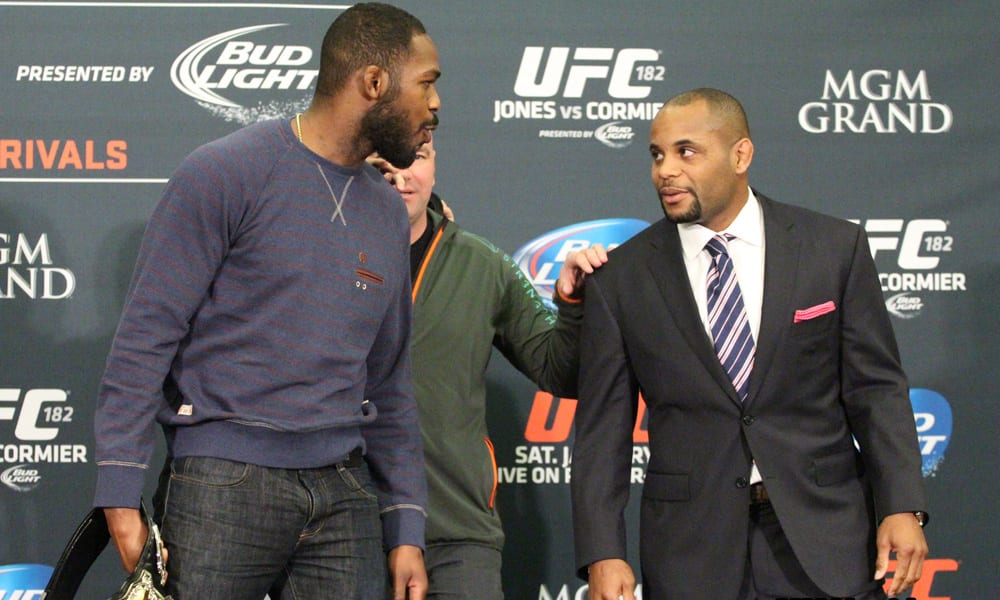 No matter what either man does, it seems Daniel Cormier will be tied to Jon Jones for the remainder of his career.
Every time Cormier gets ready to step into the cage, and the media obligations start to ramp up, the questions inevitably arise about his old foe. The latest example being on the UFC 226 media call, where Cormier was asked about his recent back and forth on social media with Jones. But while you might think the champion would be left irritated by Jones' ability to pop up all the time, Cormier believes it's just an example of Jones' desperation to be in the spotlight.
"I think at this point, when a guy has been as inactive as Jones, He ties himself to certain individuals tries to keep himself in the — he tries to keep himself relevant," Cormier said. "And it's easy to talk trash to me because people always ask me questions. We're getting on the conference call with Stipe and I'm fighting next week and the first question is about Jon Jones. So then I answer the question, and he obviously sees my answer to the question, and so that gives him opportunity to kind of put himself back into relevancy."
Most recently, the duo's insults have taken an even more personal edge, with Jones making a jibe about Cormier's wife (Cormier returned fire with a similar shot). Par for the course, says Cormier.
"It's kind of what he does. Before our very first fight, there were some direct messages sent, and he called me, he said he was my daddy or some shit like that, right? And he, somebody told him something in reference to my father being murdered, and he had Dana call me on three-way to apologize for saying anything like, 'I'm your daddy' or something like that.
"Every time we start to argue he goes back to 'I'm your daddy,'" Cormier continued. "So he didn't mean to apologize. He knows exactly what he's doing. So there's deeper meaning when he says 'who's your daddy?' There's deeper meaning because of the history and of him going through that unnecessary step of having Dana call me on the phone so he can personally apologize for saying anything about my father, when then he kind of goes right back to it any time we start to argue."
Despite the increasingly personal tone in one of the most bitter rivalries in mixed martial arts history, Cormier remains focused on making history come next Saturday against heavyweight champion Stipe Miocic.
"Regardless of what I do, it is always a part of my story," Cormier said. "Stipe Miocic, I know he won't test positive for anything. There will be no sex pill excuse, there will be no issues. He's going come, he's going to fight clean, and he's going to fight hard. That's what I want the focus to be. I don't want to worry about a guy who is notorious for trying to screw me, himself, his family and everyone else. You guys can worry about him, you know? It's crazy that a person who is so self-destructive can be held in such high regard in the sport. It's sad."
–
Comments
comments