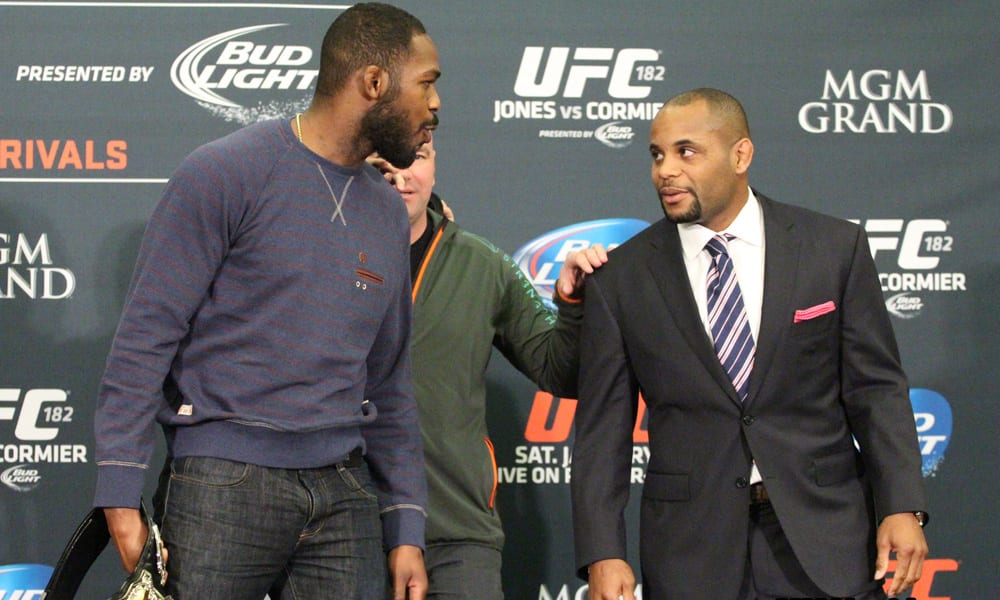 When history looks back at Daniel Cormier's role in the UFC light heavyweight division, it'll make for muddled reading.
Cormier is widely regarded as the second best 205-pounder of all time, second only to his nemesis Jon Jones. However, with Jones consistently finding himself in trouble and out-of-cage issues, Cormier seems to find his name churned up to the championship position without any doing of his own.
Recently, Jones failed a steroids test ahead of his rematch with Cormier, which he won in the third round. The news could mean Cormier is the UFC champion, without having beaten Jones, for the second time. But until Jones undergoes the process granted to him by the UFC's anti-doping partner USADA, Cormier is left twiddling his thumbs and waiting to find out where he is in the weight class.
"I haven't been able to move past this, start to deal with it again because nothing's changed," Cormier said, speaking on the Fight Society podcast. "Everybody is kind of in a waiting pattern, waiting to see what happens with his 'B' sample. That's it. I think we all want some sort of conclusion to the whole deal when there really is no conclusion to be had right now.
"I think people owe that to Jon, his team, and everybody else, USADA, to give them time to get all this stuff done. Get that 'B' sample in, make sure everything is tested thoroughly, and then we can all start to move forward.
"I think as an adult you have to know that this isn't done," Cormier continued. "I think people want resolution to it faster than it can be had. I'm just kind of sitting here taking it for what it is. 'Cause right now… what he has done has not been confirmed. Will it be confirmed? Maybe. But as of right now, he still is entitled to the process.
"Now is it upsetting? It's very upsetting. It's still very upsetting that we're going through this again. It's upsetting that anything like this could happen, and the more you learn about the thing that he was caught for, it makes it even more disappointing. All you can do is wait for that 'B' sample and see what happens."
All in all, Jones career looks to be (once again) in flux. While he appeared to recover from his previous drugs test infringement well enough — having attributed that failure to contaminated sexual aids — this time almost feels like a step too far.
For Cormier, he feels this is a blemish that could turn out to drastically effect the public's perception of Jones from now on.
"I think enough is enough now if I've got to be honest with you," Cormier said. "I think it's very difficult to consider someone the greatest of all time when there these types of allegations tied to them. I think this is the best way I could say it right now without going too far in one direction, just because I don't know. I've said it before that he's the greatest of all time. I've been in there with him twice, and I know that he's a tremendous fighter. I believe he would have had a ton of success without doing anything wrong.
Comments
comments