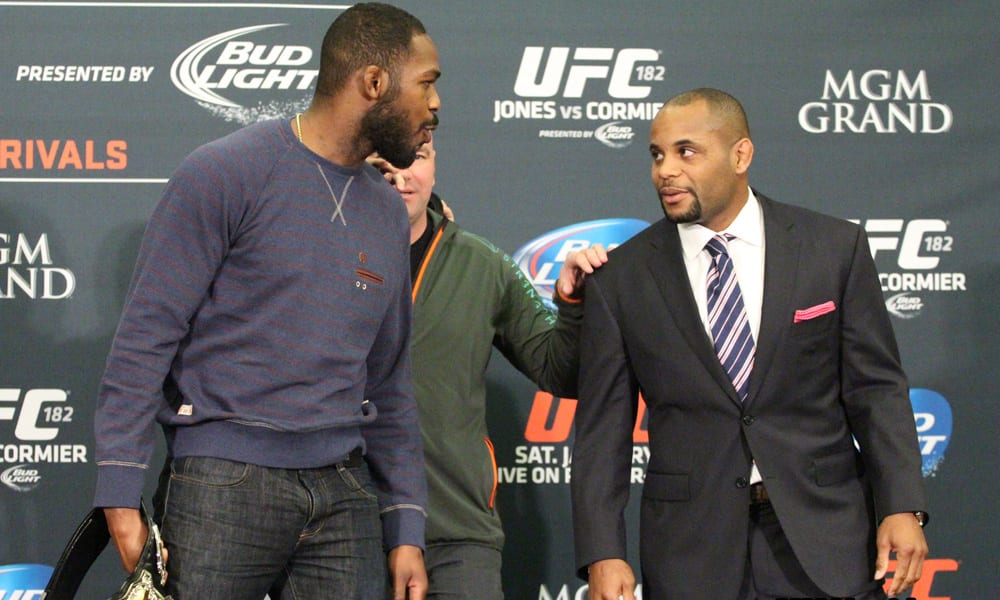 Daniel Cormier's loss to Jon Jones at UFC 214 may have been one of the most painful and stinging defeats in mixed martial arts history.
The emotions attached to the storied rivalry, as well as the the elite skill level shared by the two meant that Cormier was left devastated by the head kick in the third round that cost him the fight.
After being clearly emotional in the cage after the fight, Cormier left the cage with fans wondering if they'd ever see the former champion compete again. Today, Cormier truly broke his silence, clarifying that we haven't seen the last of him, and that he would certainly fight again — even predicting he'd see his nemesis Jones again.
"Why would I stop fighting?" Cormier said, speaking on The MMA Hour. "I still feel like I love the competition more than anything. That's really what drives me. When I don't have competition, and I'm not in something like that, I'm miserable man. I love to compete, I love being in the environment. Not only will I fight again, but I do believe Jon Jones and I will fight again.
"Yes I have a desire to fight, and I believe he and I will compete again before it's all said and done. I don't know exactly what path leads to back to a fight with Jones, but I anticipate he'll be the champion and I don't believe that anyone else in this division can compete with me. So after I win enough fights, I believe we'll fight again."
Obviously, the loss still stings. Cormier and Jones have engaged in one of MMA's most vicious rivalries. Hotel brawls, personal attacks and nearly every aspect of trash talk meant that more was on the line than at any other point in the duos careers. Understandably, Cormier was seen crying on camera in the cage following the fight, which earned him ridicule in some (stupid) circles.
According to Cormier himself, however, he's happy with being candid. It's who he is.
"In the build up I didn't really think about if it didn't go my way," Cormier said. "I was preparing to win, I think if you allow that doubt to come into your mind, it becomes a reality. So my reality was that I was going to get my hand raised. Me being disappointed and sad shows that it means a lot. It might mean too much. I guess we as athletes need to be able to better separate those things, but for me its not like that. I'm a guy who really commits myself to a goal and when I don't get it done, you see the emotion."
Both UFC commentator Joe Rogan and referee Big John McCarthy had received some criticism themselves following the bout, as Rogan had appeared merciless in interviewing Cormier after a vicious knockout, and McCarthy had let the fight last perhaps one or two punches too long.
You won't see Cormier complaining.
I don't hold any ill will towards him, I think he was doing his job," Cormier said of Rogan. "I don't hold any ill will towards (referee) John McCarthy. He gave me plenty of opportunities to stay in this fight; I couldn't. The Joe Rogan interview, I don't even know what happened. I still haven't seen it, and honestly Ariel man, I'm still missing time. I don't remember any of that, I don't remember leaving the Octagon, I don't remember some of these photos where I was crying and hugging Bob. I don't remember any of that.
"Tears and sadness shows it means something to you, and I would do that again."
Another twist in the story after UFC 214 have been Jon Jones' flattering comments towards his old opponent, stating that he admires Cormier, and wishes the two of them could put the rivalry behind them and work together in the future as acquaintances.
While those words are nice to hear, Cormier isn't quite ready to forgive and forget.
"I don't know what's going to become of Jon Jones, or what happens in the future," Cormier said. "But for me personally, I just kind of want ot live my life. I'm not going to really address anything that happened with him and I right now, it's a mute point.
"But to think all the bad things that have been said and all the negative comments to each other could just be completely gone would be unrealistic. But in terms of co-existing in this sport; we have to. How can I not see or be around Jon Jones in my job or so closely tied to the UFC. IN that sense I will be a professional, but after that I don't really know.
"I thought that we fought a good fight. I thought we were both fighting at the highest level of mixed martial arts and a good strike landed that ended the fight. I've always respected him in that sense though. I've never once questioned what type of competitor he is, he's a fantastic competitor. I just hope at this point, now that he has the belt back and he's the UFC champion again and the limelight will be brighter than ever — that he can handle it. I really do wish him the best in that sense."
But while he might wish Jones the best, that temporary truce will remain only for now — as Cormier has eyes on round three.
"I'm going to have to do something very special to get the opportunity to do it again. And I'm going to. I am honestly going to work to find a way to get myself locked back in the Octagon with that man.
"I have to."
—
Comments
comments