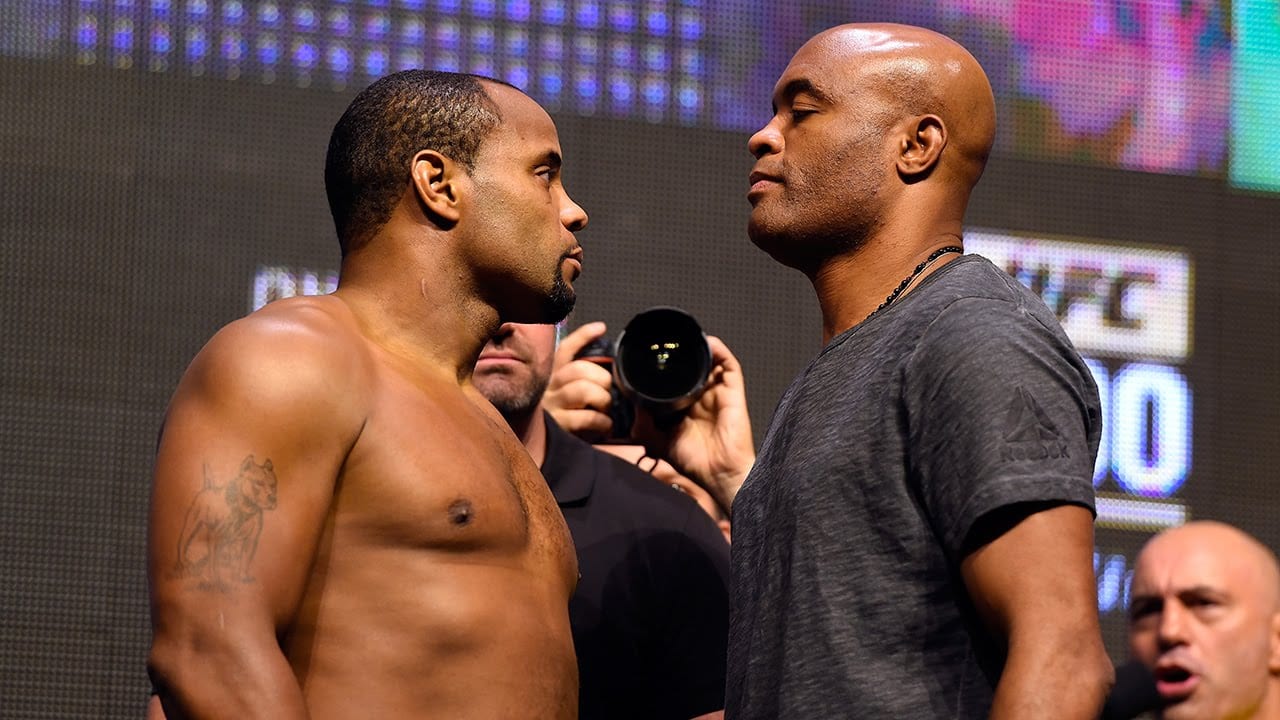 Last week, Anderson Silva was notified that he'd failed an out-of-competition drug test under the USADA testing protocol — the second time in Silva's career that he's been in such a spot. For many of those who grew up watching him and considering him the greatest of all time, it was a saddening moment.
Even for some of Silva's old opponents — such as Daniel Cormier, who fought Silva at UFC 200 — were dismayed to hear that the MMA legend had once again found himself on the wrong side of the rules.
"I mean.. Again Anderson? Again?" Cormier said on his podcast Talk and Talker. "This thing happens on Friday, he's pulled from his main event against Kelvin Gastelum. [Tuesday] he releases a statement, and addresses it — in a roundabout way. He did not directly say or talk about the steroid situation. … What in this statement did Anderson just say? What did he say?"
But if Cormier had any ill feelings towards Silva, they pale in comparison to the withering look the light heavyweight champion has on those who attempt to condone any illegality in the sport.
"And for the people who say 'USADA needs to lighten up their testing', fuck you," Cormier said. "Because we have to fight. And unless you're willing to go into the Octagon with someone that's enhanced, you don't really have an opinion on the drug testing. The drug testing is in place because it should be. To protect the athletes who have families, childrens, wives, and we want to fight on a level playing field.
"So if you are one of the people that say 'USADA needs to lighten up', fuck off. You don't deserve to watch the sport because you have no sympathy for the well being of the athlete … you're a piece of shit."
For now, Silva has a due process to undergo. We've come to see enough examples of UFC athletes who find supplements they've purchased legally to be tainted with banned substances not described on the label to think that an automatic test failure is a sign of sure guilt. But, as Cormier says, with two infractions on his record, Silva looks to be in a tough spot.
"USADA does not catch people every time," Cormier said. "So for the guys like Anderson now, who has tested positive twice, it lends itself to the fact that he probably was doing something wrong in the past. … [let's say] you became the champion using steroids in a time where there was no drug testing. Now you're in the time where there is drug testing, there's a chance you get caught, but just maybe just maybe you don't get caught. Do you risk it? I think some of these guys are saying 'I'll risk it to get back to the levels that I was at before' and they get caught some. I still think some guys are cheating.
"It seems to me like these guys are cheating, and USADAs popping them. And I love USADA for it, because you don't cheat. You don't fucking cheat, you go and you fight."
Comments
comments