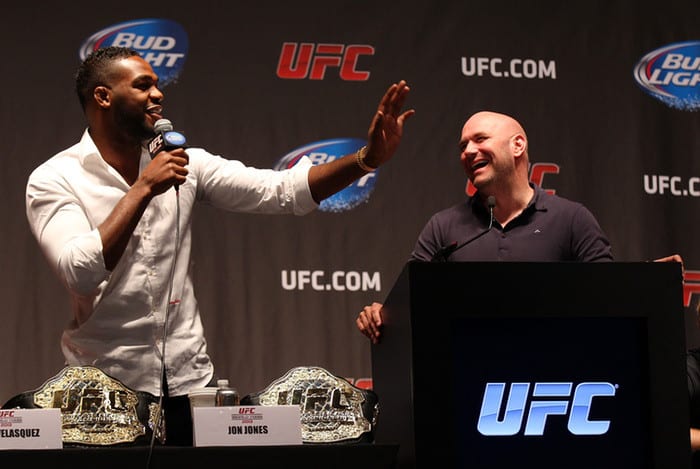 Don't expect to see Jon Jones competing in the Octagon anytime soon after Dana White admitted that he has "moved on" from the speculation linking the former longtime light heavyweight champion not just with a title shot, but apparently even with Jones fighting in the division at all.
Jones has been thought to be the presumptive first challenger for Francis Ngannou's recently-won heavyweight title but a pay dispute between Jones and the UFC appears to have ground the talks to a standstill. White, therefore, moved to install Derrick Lewis as the top contender to next face Ngannou later this year — leaving Jones somewhat on the sidelines.
And according to White's latest comments, Jones may remain there for quite some time.
"Yeah, I've absolutely moved on," White told TMZ. "Listen, I put on fights every Saturday. We have a window where we try to build some fights and make some things happen. If the fights don't happen within that window, we move on, and realistically, I mean I've been saying it since the beginning, Derrick Lewis is the guy who should be getting the title shots.
"He beat Francis Ngannou. He's next in line, he's coming off of great performances and that's a wrap. We're moving on."
Lewis does indeed hold a victory over Ngannou, but that came in a — frankly — bizarre matchup in which neither fighter ever really moved out of second gear. Lewis has won five of his seven bouts since (including a loss to then-champ Daniel Cormier) but has recently pieced together a four-fight win streak (five if you count the car thief he allegedly knocked out this week), including impressive finishes of Curtis Blaydes and Aleksei Oleinik in his two most recent bouts.
Jones, meanwhile, has packed on some serious muscle to his frame in advance of his heavyweight bow but White's comments have muddied the water somewhat, meaning that Jon Jones' next move is about as unclear as it has ever been.
Watch this space.
Comments
comments