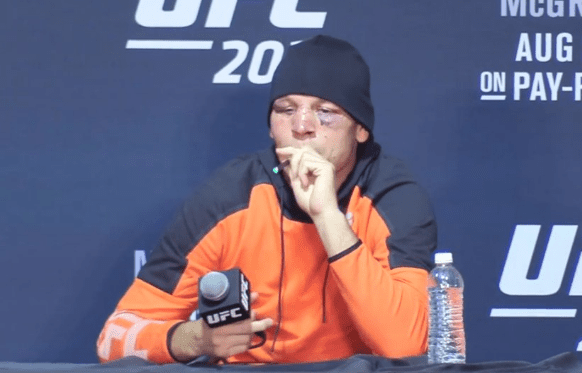 It seems the process to getting Nate Diaz back into a UFC Octagon is underway.

Yesterday, Diaz raised the eyebrows of the mixed martial arts fanbase when he took to his social media and appeared to announce his interest in a May or June return to competition.
"Sick of sitting around waiting for you fuckers to do shit," Diaz posted. "There's no excitement in this fight shit step your games up I'll see u around May, June. Sincerely The Real Champ."
Today, UFC president Dana White added another layer to proceedings, telling TMZ he planned on contacting Diaz and offering him a few potential names for a comeback. There are, however, two names that White does not plan on giving the man from Stockton — UFC welterweight champion Tyron Woodley, and UFC lightweight champion Conor McGregor.
"The reality is there's real guys like Rafael dos Anjos, guys in line waiting for that fight," White said about Woodley. "There's so many guys that deserve that fight before Nate does and they're gonna get it."
And as for a third contest with McGregor?
"I think people would rather see Conor come back and either fight Tony [Ferguson] or Khabib [Nurmagomedov], whoever wins," White said. "The Nate Diaz fight isn't going anywhere. We can do that thing any time."
Comments
comments