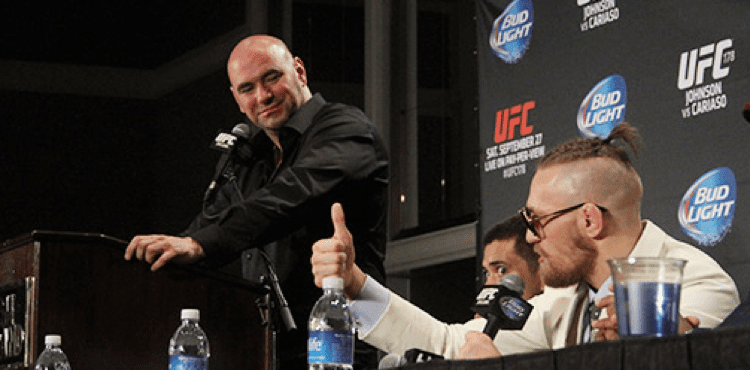 As soon as Tony Ferguson defeated Kevin Lee at UFC 216, fans immediately began wondering if he'd done enough to entice the Conor McGregor lottery ticket.
While Ferguson himself had made plenty of claims that McGregor should want to face him, McGregor had previously mentioned wanting to see the best option before committing to a return. While Ferguson would be a solid opponent, some have looked at a third contest with Nate Diaz as the best choice.
But according to UFC president Dana White, who was speaking on the Pardon My Take podcast, that rubber match with Diaz hasn't been put onto the table just yet.
"No that's not true [that it's Diaz next]," White said. "… It has literally not even been talked about."
When the host suggested that it would be McGregor-Diaz 3 in Dublin at the Croke Park stadium, White laughed, before revealing that plans have McGregor stateside for now.
"That all sounds great, but it's probably going to be Tony Ferguson in Las Vegas," White said. "But we do want to do Croke Park, but the reason we haven't done Croke Park with Conor is because we can't get it done over there. They have a curfew on what time you got to be out of there and noise ordinances."
Recently, there's been some suggestions in various publications that McGregor would actually be holding off on a UFC return while he 'competed' at next years WrestleMania with the WWE. While that option has long been open to McGregor, with notable wrestling figures such as Stephanie McMahon and Triple H showing their willingness to work with the UFC champion, White has refuted the claims it's happening anytime soon.
Not that he'd stop the crossover from taking place.
"Yes [I'd let him]," White said. "The story was out there that he was going to be in the WrestleMania — it's not true. When you have the New York Post writing shit that's not true, and the LA Times, and thing like that.. it's a little irritating."
As of yet, fans are still waiting to hear McGregor discuss Ferguson since UFC 216, and to hear his future plans said plainly. Until then, they'll have to be content with a small clue he left on his social media.
Tony pic.twitter.com/IhPaemJP30

— Conor McGregor (@TheNotoriousMMA) October 13, 2017
—
Comments
comments