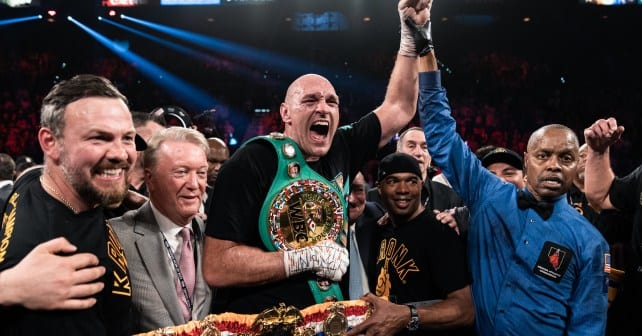 It is difficult enough to get Tyson Fury to compete in his own sport against a top-level opponent but if 'The Gypsy King' is serious about taking on Jon Jones in the cage, Dana White says to give him a call. 
Fury and Jones, both heavyweight champions in their respective sports, have engaged in something of a public war of words recently about which man would come out on top if they were to throw down in a 'real' fight.
And, somewhat unsurprisingly, Dana White is back the fighter he promotes if they were to ever throw down — and says that Tyson Fury is more than welcome to make the fight a reality in the UFC.
"Jon Jones is the baddest dude on the planet, there's no debate, there's no denying it," said White to BroBible.
"There's no debate. I don't care what anyone says, everybody can try to spin it, a lot of this stuff is clickbait. You know how I am. If Tyson Fury really wants to fight Jon Jones in the UFC, I will make it happen.
"Tyson, if you're serious, let me know. Tyson and I have a good relationship, I like Tyson Fury… Let's find out. We can talk all we want. Tyson can talk, Jon Jones can talk, I can talk, we can all talk, let's do it.
"If Tyson is serious and he wants to do it, I got Floyd Mayweather to fight. We paid Floyd and got him the number he wanted. If Tyson Fury is serious and he wants to fight Jon Jones in the UFC, let's start talking."
Comments
comments