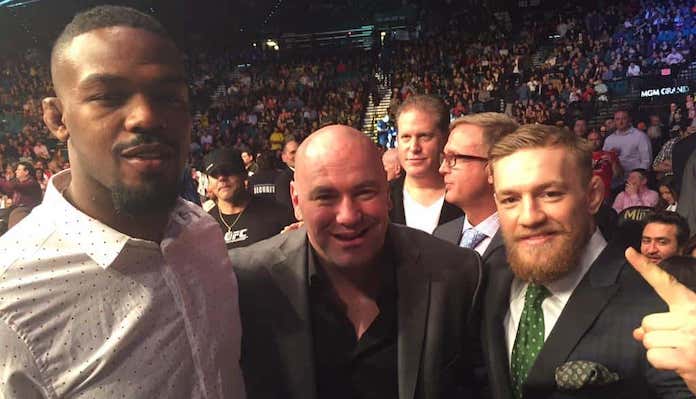 Dana White doesn't appear to be backing down to Jon Jones' demand for an increase in wages.
The two have been going back and forth for a while, with Jones left infuriated by White's apparent refusal to talk a bump in pay for Jones to move to heavyweight. When White made it clear he felt Jones' requests were out of the question, the light heavyweight champion announced he would sit on the sidelines until the UFC paid him more fairly.
A month or so later, and White hasn't relaxed his stance.
"That's nothing new, that's been going on for 20 years, guys are always going to complain about money," White said, speaking to ESPN. "Everybody feels like they're not being paid enough and if you ask these guys they'll tell you they're the biggest star in the UFC. Well, I can tell you this, the guys who really are the biggest stars in the UFC and the guys who bring in the money are the guys who are being paid.
"Some of these guys hear what Conor McGregor or Khabib are making and they feel they should be making that kind of money too. Which isn't the case. I've made it very clear, ask Jon Jones what he's made. Ask Jon Jones what he's getting paid. See what he tells you. He won't tell you what he's getting paid, because I think the narrative changes a lot when you find out what Jon Jones makes.
"But Jon Jones feels he's underpaid. I've said it many times, I think Jon Jones is the GOAT. I think he's the greatest in the sport within the last however many years, and he just doesn't make the money that the Conor and a Khabib make, and he doesn't like that."
–
Comments
comments