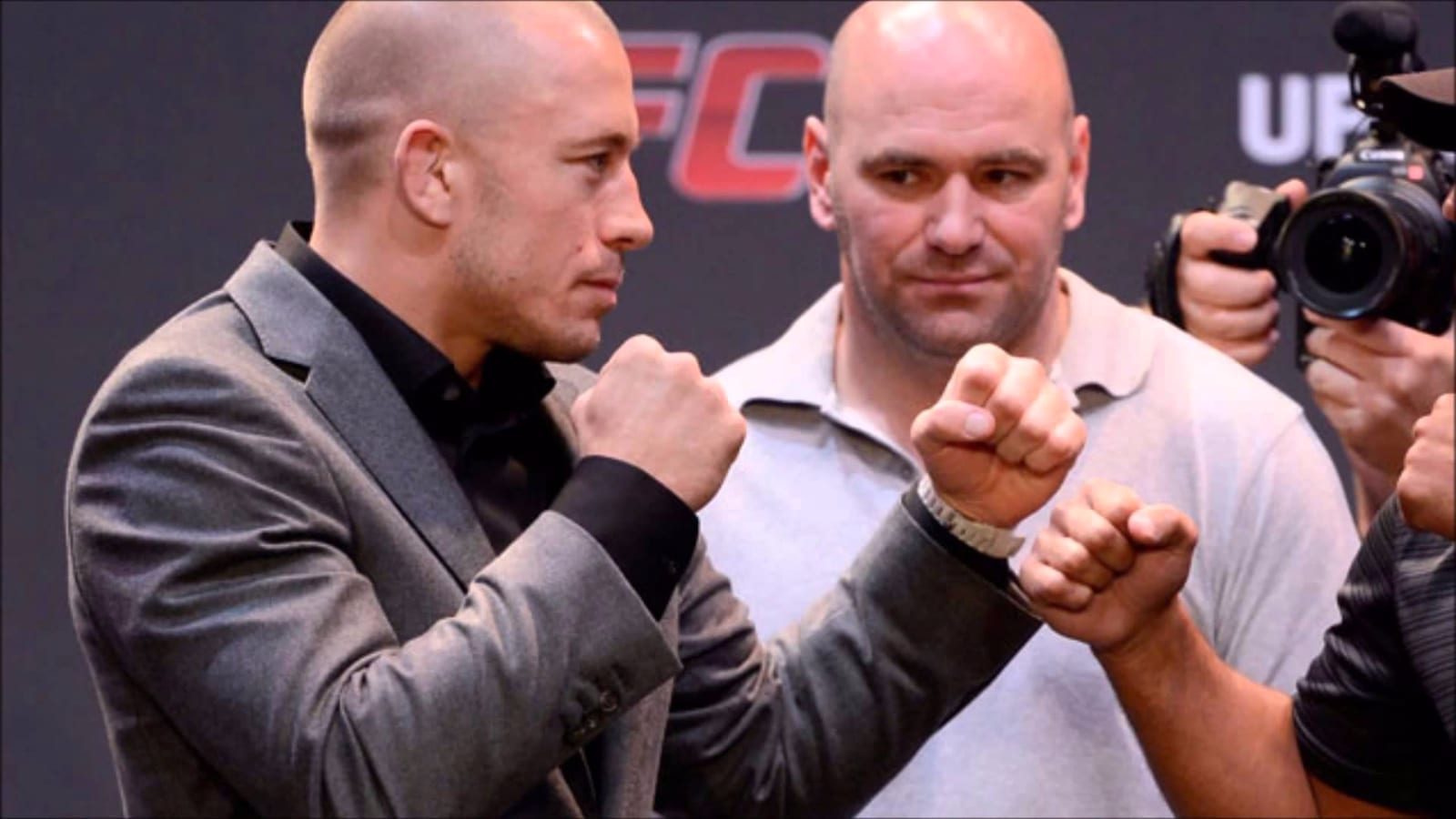 When Georges St-Pierre returned to the UFC at middleweight, most were skeptical that — even if he defeated Michael Bisping for the championship — he would stick around at 185-pounds.
While there has been some talk that St-Pierre's comeback contract involves language that would dictate him fighting interim champion Robert Whittaker, it seems few truly believe that the welterweight legend wants to fight at the heavier weight, instead believing he would prefer to return to his more natural division of 170-pounds.
One person who is sternly not on board with that suggestion, and the man who might have the largest say, is UFC president Dana White.
"I don't want to hear that. That's not what I want to hear," White said, speaking at a media lunch, Tuesday (via MMAFighting). "I want to hear he's going to defend his 185-pound title. That's the agreement we made. That's the deal we made when we made the deal.
"I'm going to be super pissed [if he asked to go down], and I don't know where we go from there," White said. "Go to 170 — who's better to fight at 170? You've got [Tyron] Woodley, you've got 'Wonderboy,' [and then at 185] you've got [Yoel] Romero, and then you've got Luke Rockhold. Fucking monsters. They're all monsters. There's no fight that looks like, 'Oh, maybe this is the fight for me to take.' You looked at Bisping like he was a tune-up. You got your tune-up. There's nothing but fucking animals at '85 and '70.
"Rockhold is massive. He's massive when he cuts weight. There's no good options. To sit there and try to handpick people, or where you want to go and everything else, you can't in this fucking sport. They're all nasty. You're a fighter. Get in there and see who you can fucking beat. You wanted to fucking come back. Welcome back, it's ugly."
There has been some suggestion that St-Pierre could return as soon as early next year to face Whittaker, particularly with an upcoming event in Perth, Australia. While White wouldn't commit to a date, he reiterated that for him, the only next step for St-Pierre was a title defense.
"I said [to St-Pierre], 'I'll tell you what: You want to come in and take this shot against Bisping, I'm cool with that, but you've got to defend the title,'" White said. "You can't drop the title after the fight and then go somewhere else. It's just, my thing is, to be the man, you've got to beat the man. And when the man just goes away.. listen, if a guy is on a run and undefeated then wants to retire, that's one thing. The guy retires the belt, that's another thing. 'Well, I'm going to drop this one and jump to 170 now,' I don't like it."
Comments
comments