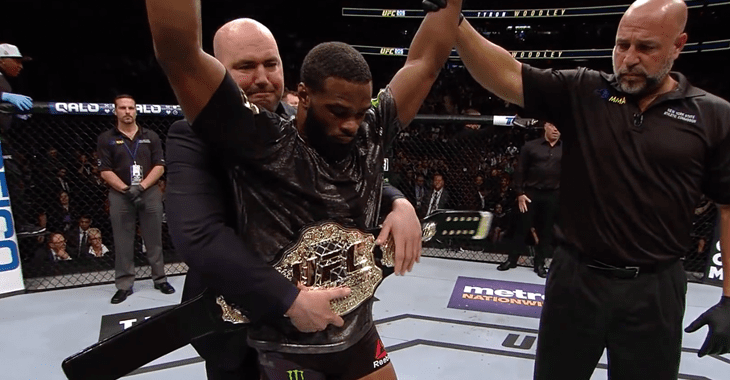 The discussion about Tyron Woodley, his popularity and race is, unsurprisingly, something of a sensitive subject.
The welterweight champion has made it clear in recent months that he feels aggrieved over what he perceives as double standards in mixed martial arts when it comes to black athletes and white athletes. Citing certain terms used in commentary, as well as what he considers unfair treatment from the UFC promotionally, Woodley believes he is treated differently than he would be should he have been born white.
According to UFC President Dana White, that's not the case. Instead, he believes that when it comes to promotion, Woodley is his own enemy.
"The thing is with Tyron, first of all; he's a smart guy," White said, speaking on ESPN. "He's a good looking kid. He's explosive. He's got knockout power; but he's a bit of a drama queen. … When a fight is made — and Conor McGregor is a perfect example — Conor McGregor has that fight anybody, anywhere attitude, but doesn't just have the attitude, he lives it. I've stood in front of him [with] ten days notice and he doesn't care. He doesn't care.
If Tyron Woodley had that attitude, Tyron Woodley would be a massive star. Massive star. But he does these things where he literally [go] on Instagram when he knows who he's fighting next and say 'I'm not fighting him, I don't wanna fight him, I think I wanna fight this guy or that guy'. And that's not what people want to hear.
"People don't want to hear that, and then what he does then, is he'll start fighting an arguing with people on social media. Then he wonders why when he shows up at a press conference the whole crowds booing him. They're not booing him because he's black, there's tonnes of black guys fighting in the UFC. It's Tyron. If you look at the guy, he's the perfect specimen, he's the perfect athlete you can get behind and promote — until he shoots himself in the foot by doing that type of stuff."
Comments
comments