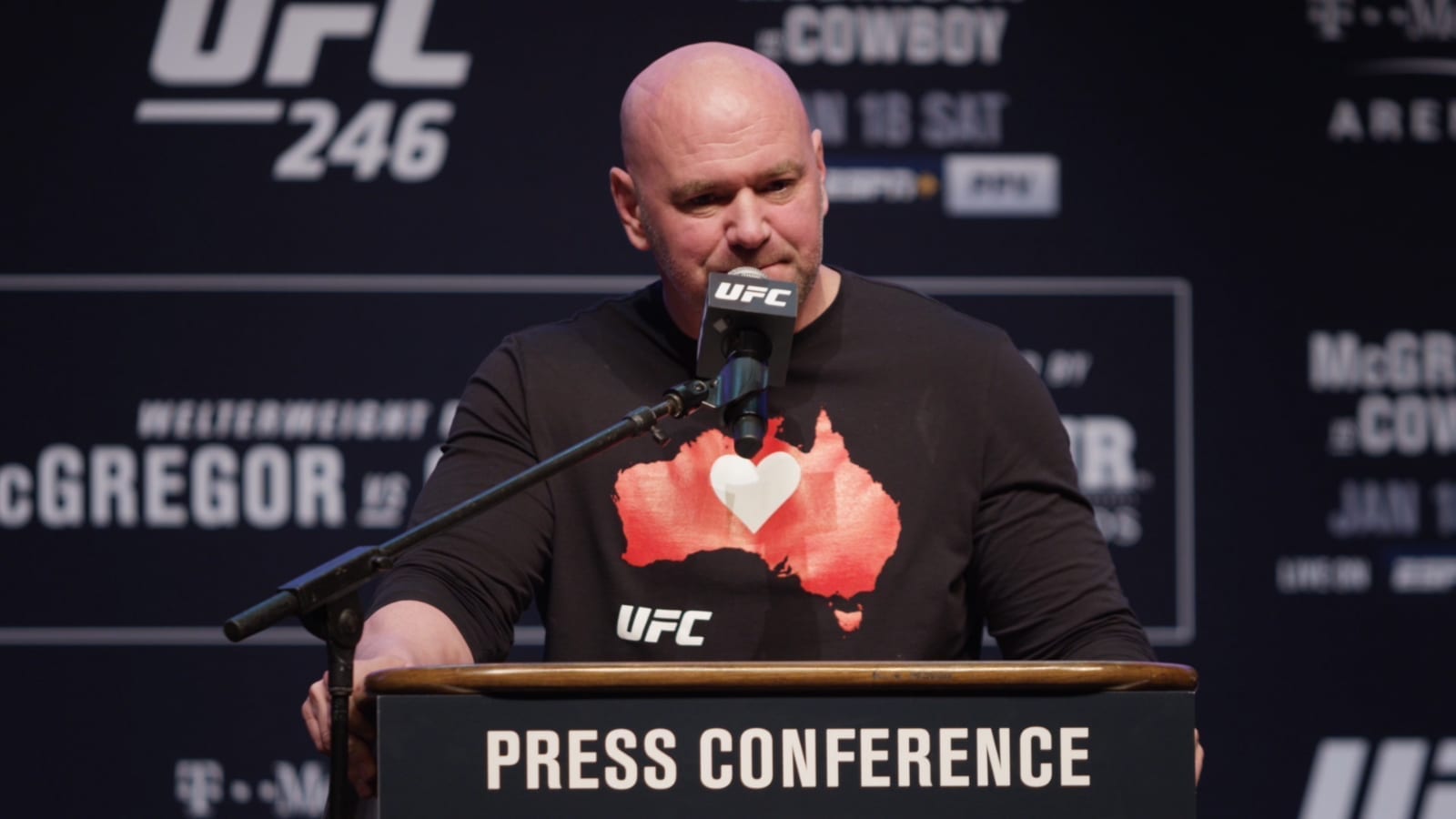 The UFC have announced a number of changes to their schedule as the coronavirus continues to wreak havoc around the world.
In light of a number of States bringing an end to live public gatherings for the moment, UFC Columbus and UFC Portland will be moving to Las Vegas and will be held at the UFC APEX — the facility from which Dana White's Tuesday Night Contender Series is shown. As of now, UFC London is scheduled to go ahead as normal.
White appeared on ESPN's Sportscenter to address the concerns about the coronavirus and pledged the company was doing all they could to keep the sport safe.
"I talked to the president and the vice president about this, and they're taking this very serious," White said. "They're saying, 'Be cautious, be careful, but live your life and stop panicking.' Everybody is panicking, and instead of panicking, we're actually getting out there and working with doctors and health officials and the government to figure out how to keep the sport safe and continue to put on events."
As far as the events in Las Vegas, there are still details that need to be worked out, but the public are going to be unable to attend.
"We're working directly with the Nevada State Athletic Commission and executive director Bob Bennett," White said. "We're always looking out for the health and safety of our fans, our athletes, whatever it might be. Obviously, this thing is going on, we're going to do the same thing: We're going to make sure two healthy athletes are competing."
The fights are still on this Saturday night LIVE on @espn and @espn+ at 3pm ET pic.twitter.com/KwIyr6wzo2

— Dana White (@danawhite) March 13, 2020
The next two UFC events are staying put, but the two after that are moving to Las Vegas pic.twitter.com/9ATR2ECqD7

— ESPN MMA (@espnmma) March 13, 2020
A press release from the company read as follows:
"UFC Fight Night: Ngannou vs. Rozenstruik, originally scheduled for Saturday, March 28, at Nationwide Arena, in Columbus, Ohio, will be relocated following the State of Ohio's ban on large gatherings of 100 or more. In addition, UFC Fight Night: Overeem vs. Harris, originally scheduled for Saturday, April 11 at Moda Center in Portland, Oregon, will be relocated following the State of Oregon's ban on large public gatherings of 250 or more. These events will now take place in UFC APEX in Las Vegas on the same dates, Saturday, March 28, and Saturday, April 11, respectively. Both events will proceed with only essential personnel in attendance and without spectators. UFC is working directly with Nevada State Athletic Commission Executive Director Bob Bennett on implementing a process to screen the competing athletes for the coronavirus to ensure their health and safety. These events are scheduled to be broadcast live on ESPN's platforms here in the U.S., and by UFC's media partners around the world.
We know many of our fans in Ohio and Oregon are disappointed, as are we. Ticket holders may seek a full refund at the point of purchase. We look forward to returning to Columbus and Portland at the earliest opportunity."

Comments
comments