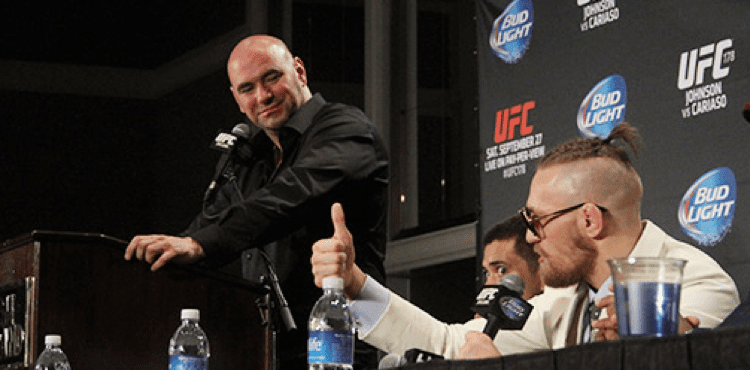 If UFC fans were worried that Conor McGregor might be a one and done in 2017 should he face off in the much hyped boxing bout against Floyd Mayweather, then Dana White wants to reassure you.
The UFC president was speaking on ESPN's SportsCenter ahead of UFC 211, and revealed that despite recent uncertainties regarding a date for the contest against Floyd, McGregor had told him he wished to fight twice in 2017.
"Conor wants to fight," White said on ESPN. "Conor wants to fight Floyd, Conor wants to fight twice this year, so we'll just have to see how this thing plays out."
McGregor is currently taking some time away from the cage after his longtime girlfriend Dee Devlin gave birth to their son, Conor McGregor Jr.
Another man who knows a thing or two about time away from MMA is Georges St-Pierre, who recently announced his return to the sport as the UFC booked him in a middleweight title shot against 185-pound champion Michael Bisping. But, while Bisping and St-Pierre appear to be happy with the provided contest, plenty of others in the middleweight division have voiced their concerns at the move — particularly with St-Pierre's recent announcement that he intends to fight after October.
And White, who up to now has refuted the idea the UFC may look into other options, appears as if he's having second thoughts.
"Obviously I was expecting him to fight this Summer," White said. "That is not the case so we'll see what happens. I know he recently came out and said he'd like to fight in November. I like Georges St-Pierre, he's a great guy… we'll see. We'll see what happens."
Comments
comments