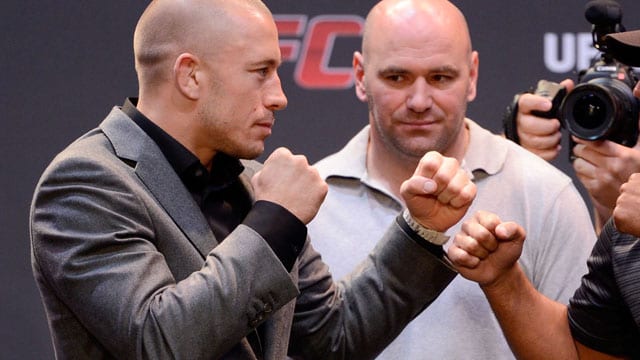 Something has clearly changed Dana White's mind, and the UFC boss is now more open to a fight with Khabib Nurmagomedov and Georges St-Pierre than he ever has been.
The UFC president has been asked about the possibility of a St-Pierre return and a potential superfight between the grappling aficionados, and while White has shown nothing but resistance to the idea in the past, he appears to be coming round.
"Tony fight has to happen first," White said on Instagram Live, (H/T MMAFighting). "Tony Ferguson vs. Khabib and obviously if Khabib wins that fight, the GSP fight would be a fun fight to make for sure."
And to make the entire thing more intriguing, St-Pierre has taken to posting pictures of himself on Instagram looking far more svelte than he's looked in years.
"I don't know if you guys have seen pictures of GSP but he's looking really, really, really fucking skinny right now," White said. "He just did like a cleanse or something. He's in ridiculous shape still but he's super lean. I think right now he's ten pounds lighter than Khabib is. Something like that, somebody told me, so that's pretty crazy."
–
Comments
comments