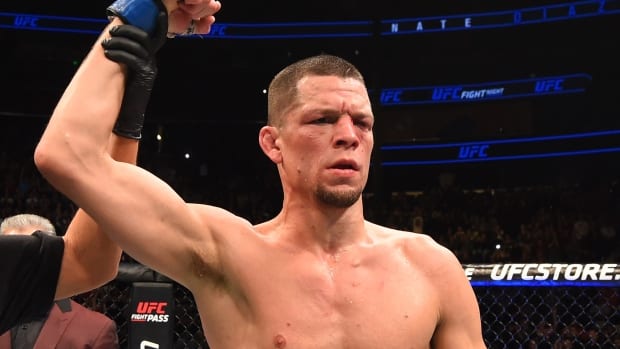 When it comes to Dan Hardy's relationship with the UFC, it seems that the gloves are off.
Hardy reacted furiously to a statement by Dana White at last Saturday's post-fight presser in Abu Dhabi in which White said Hardy was released from his analyst duties by the UFC as a result of 'mistreating' a female employee — something which Hardy has since strenuously denied — and this seems to have intensified a war of words between both parties.
And the latest battleground? The recently abandoned main event fight between Nate Diaz and Khamzat Chimaev.
Diaz fought out his UFC contract last month, submitting fellow veteran Tony Ferguson in the fourth round of their hastily arranged battle at UFC 279 — a fight which came about after original opponent Chimaev missed weight by a substantial margin, and as far as Hardy is concerned the fight was little more than the UFC attempting to hand Diaz a one-sided defeat on his way out the exit door.
"Imagine Nate Diaz (fighting) Khamzat Chimaev. We all know what that was. We all knew what that was," Hardy said to the Freedom Pact podcast, via MMA Junkie.
"And fortunately it worked out that fight didn't happen, and then what did we get from Dana the week after? 'It's a good thing that fight didn't happen. That would've been really bad.' Like yeah, man. I don't have to buy your bullsh*t anymore, because I know it's bullshit. You know what you're doing. It was an assassination attempt. They were trying to bury him before he left his UFC contract.
"That Chimaev against Diaz fight felt more like — it just felt like an execution," he added. "And that, to me, felt like you've got one person or one small group of people that are using one part of the roster to punish the other part of the roster. That's not sport. That's dogfighting. It's just ugly. It's just an ugly thing, and it make me feel uncomfortable, because I love the sport, and that would damage it.
"Imagine if Nate had gotten really badly hurt. Straight away it would've cast a shadow over the UFC, it would've been all over the news in a negative way, and it would've made us all feel uncomfortable, because we knew it was happening. It was fortunate the MMA gods shined down on us that day. But I also feel like there was some meddling in the background to make sure that didn't happen. Because I think the closer the fight got, the more the UFC realised how much they were gonna bury themselves if Nate got hurt.
"For me, the UFC has already established itself as the figurehead of the sport. There's no doubting that, and I don't think for a second that any other organisation is gonna come close to what the UFC are and what they're doing.
"They will always be the premiership for mixed martial arts. They just need to act like the premiership. They need to act like the premiere league in the sport. They need to be the custodians of the sport."
Comments
comments