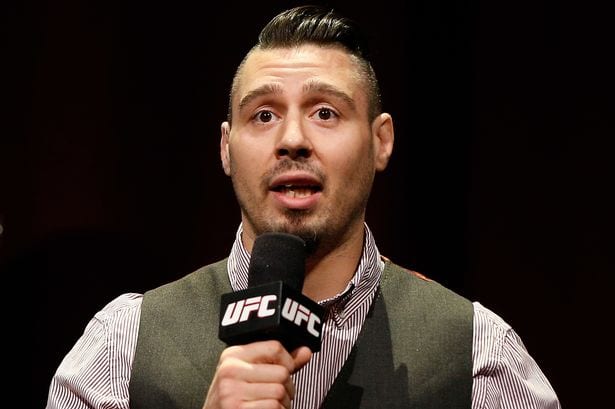 One of the key talking points to emerge from Saturday's final 'Fight Island' event in Abu Dhabi was the testy off-camera exchange between commentator Dan Hardy and Herb Dean. 
The situation arose in the final seconds of the Jai Herbert vs. Francisco Trinaldo bout which took place on the undercard. Former Cage Warriors champion Herbert, who was making his UFC debut, was most likely on his way to winning a decision against the experienced Brazilian fighter before he landed an overhand on his English opponent, sending him cascading to the mat.
Herbert immediately appeared out, something which Trinaldo noticed also as he appeared unwilling to land further shots on the prone Herbert. Dean, however, appeared to indicate that Herbert was intelligently defending himself — much to Hardy's protestation, as he shouted 'Stop the fight!' from the broadcast position and soon after confronted Dean in an exchange which was picked up on the broadcast microphones.
Hardy subsequently issued a statement on social media, which you can read below:
🏴‍☠️♥️🏴‍☠️ pic.twitter.com/ELA5vtnHUd

— Dan Hardy (@danhardymma) July 26, 2020
Herb Dean has also given his thoughts on the matter, neglecting to reference Hardy by name but disputing the assertion that the fight was over — and was critical of anyone shouting 'stop the fight' into a cage unless it came from the either corner, or the cageside doctor.
"There's a fight that some people said could have been stopped earlier, think it was stopped late. By no means was that a late stoppage," Dean said via Instagram.
"Anyone who believes or not is maybe just following because someone with a microphone says it's a [bad] stoppage. But if you know anything about fighting, a fighter got hurt, fighters get rocked all the time but we're looking at his actions. He's tracking his opponent. He knows where his opponent is. He's put both arms in between him and his opponent. He's lifted his leg up, head off the mat. He's doing everything I can ask for him to do to stay in that fight. There wasn't a bad stoppage.
"During the match, someone yelled out 'stop the fight. This is really interesting because there's only professionals there. There's not one fan in the building. Everybody has a job there, everybody knows what they're job is and they have specific duties. I have a job to referee the fight. One of my duties is to stop the fight when the fighter's taken too much damage.
View this post on Instagram
"There's two people who are authorized to advise me during that to maybe yell out those words 'stop the fight.' There's one, the physician — we have a ringside physician who knows more about the physical body than I do. He's there to give me advice. If he can't get my attention, maybe he might yell stop the fight. Then there's the fighter's corner. They train with him, they know about him, they know more things about him than I do. They may know something I don't know so that's why they would give me some advice to stop the fight. Ultimately, to stop the fight is my decision."
Comments
comments