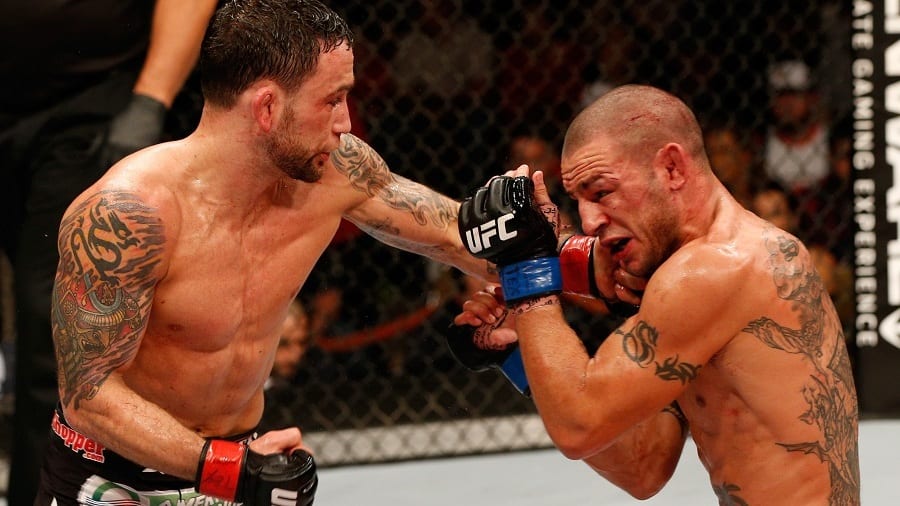 When Frankie Edgar fought Cub Swanson back in November of 2014, it was an emphatic, one-sided affair.
Edgar took Swanson down repeatedly through the contest, before ending the fight at the very end of the fifth round. By that point, the difference in skill between the pair looked huge, and Edgar had well and truly derailed Swanson's title ambition.
It's a drubbing that Swanson remembers, and it's a drubbing Swanson wants to repay.
The pair are scheduled to rematch in Edgar's home town of New Jersey on April 21. And, heading into fight number two, both men are finding something in common with each other. In both Edgar and Swanson's last outings, they fell short to impressive finishes by Brian Ortega. The pair are looking to bounce back against the other.
Although Swanson isn't putting too much stock into the losses. His or Edgar's.
"Frankie is Frankie," Swanson said, speaking on MMAFighting's The MMA Hour. "Everybody gets caught. I'm not gonna go in there thinking like that. … He gave me just a straight ass kicking. I owe him one."
There has, since the fights announcement, been some mild backlash from fans. Due to Edgar's brutal defeat at Ortega's hands, some feel he should wait a while longer before returning to action. Indeed, even Swanson was surprised when he received the call, but he's not taking the threat of another beating by Edgar lightly.
"Yeah, I am surprised," Swanson said. "But I mean, a lot of times fighters feel like they don't have a good performance and they just want to get right back in there and make it right. It happens.
"A lot of people would say it's a mistake. I've heard people saying on social media that it is. But I mean, they're only gonna say that unless he comes out and looks great."
Comments
comments