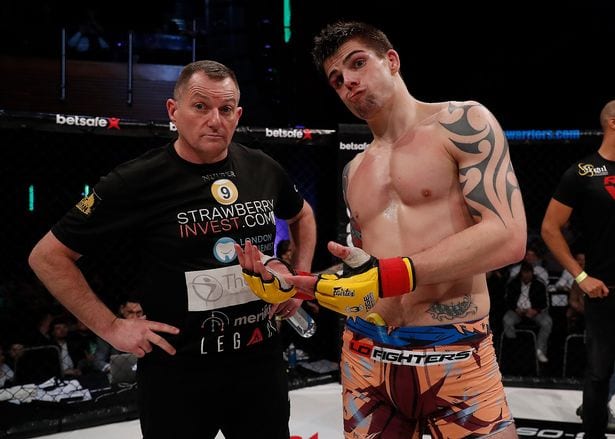 It is sometimes said in mixed martial arts that when the UFC comes calling, you don't say no.
This was the position that Craig White, top contender for the Cage Warriors welterweight title, found himself in when he was contacted by promotional boss Graham Boylan inquiring if he would be interested in filling in for the injured Gunnar Nelson in the co-main event of May's UFC event in Liverpool.
There was one hurdle to overcome, though. At the time he received the call White far outside of the welterweight limit of 171-pounds and ended up cutting a monstrous 46-pounds ahead of the fight.
Speaking to MMA Fighting's Peter Carroll, White said that he worked out four times a day and restricted his calorie count to just 600 per day. Unsurprisingly, it wasn't plain sailing.
"I got stuck at about 87 kilos (191-pounds)," White said. "You always get to a stage where you begin to plateau and that was it for me. The thing is, you know it usually takes a few days for the weight to start moving again, but I really didn't have all that much time to work with. I ended up doing a monstrous session and suddenly I was 84 kilos (185-pounds).
"Another new thing was the additional media and the open workout. In my head, I couldn't let anybody see how badly I was feeling because that could've given my opponent some kind of psychological advantage. As well as that, if I looked really bad I could've ended up getting pulled by the UFC.
"Basically, when you saw me stop doing pads and stretch I was fucked," he said of his first ever UFC open workout.
"Even to have the flexibility to stretch at that point was an achievement because I had done an hour of stretching before it and I made sure I ate a bit of food. I was so nervous because that was something that was completely new to me. I was more worried about that than the media day or anything else because it was so alien to me.
"My body was ruined and at one point I just froze. About two thousand people were watching me hitting pads and all I could think in my head was: 'This must look sh*t.' I thought I was still good for another two minutes, but Dave turned to Dan Hardy and told him that I was done."
After his experience in Liverpool, White says that he doesn't support Dana White's intention to remove the early-morning weigh-ins and hold them in the evening.
"I think it's a bad idea based on the experience I had in Liverpool. I had got down to that weight and my body was absolutely ruined at that stage, but because I had so much time to rehydrate, it was the best I've ever felt on a fight day. I was back up to about 92 kilos (202-pounds) by fight day," White said.
"The only thing I had to sacrifice because of the early weigh-ins was a bit of sleep, but that was fine because I was able to have a nap during the day to make up for it. The thing is, the night before the weigh-in you never get a good sleep because you're so dehydrated. [Getting rid of the early weigh-in] just doesn't make sense to me."
Comments
comments